As the old saying goes; strikers win games, defences win titles, and no defence is any good without a world class goalkeeper behind them.
In this series of articles, I will be looking at the best players that have worn each shirt from 1 to 11. Today is the turn of the number 1! It is important to remember that I am only interested in the players who have actually worn the shirt number in order to eventually decide which is Villa's most iconic number. For example, Emi Martinez would be currently exempt from earning the top spot for number 1, as Tom Heaton is currently in possession of the shirt.
Although shirt numbers came into use in the 50s and 60s, I have chosen to only go as far back as the 70s to see who has had the most influence at our club.
Aston Villa have had 18 number 1 goal keepers since 1975:
John Burridge 75-77
Jimmy Rimmer 77-83
Mervyn Day 83-85
Kevin Poole 84-86,
Nigel Spink 83-95
Les Sealey 91-92
Mark Bosnich 92-99
David James 99-00,
Peter Schmeichel 01-02
Peter Enckleman 02-03
Thomas Sorensen 03-08
Brad Friedel 08-11
Shay Given 11-13
Brad Guzan 13-16
Pierluigi Gollini 16-17
Sam Johnstone 17-18
Orjan Nyland 18-19
Tom Heaton 19-Present
From this selection, I have picked my favourites and what I believe to be the best and most influential 10 that have graced villa park since 1975.
John Burridge
First up is John Burridge, a larger than life character that played football for an astonishing 31 years in total. He joined Villa in 1975 and was signed by Ron Saunders for £75,000. He played 65 times for the club and was in goal when we won the league cup in 1977, and played in all three games.
Jimmy Rimmer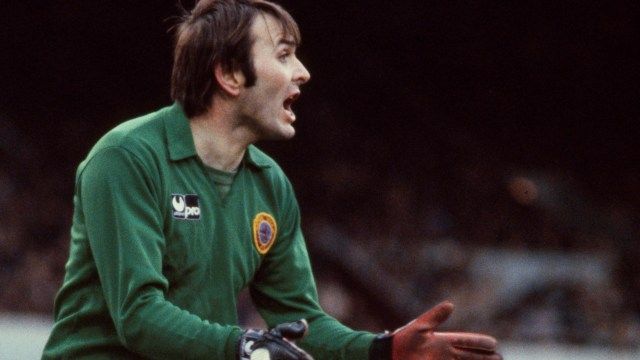 Next up is Jimmy Rimmer, a player who was involved in one of the most iconic moments in our history when injured in the opening minutes of the European Cup final in Rotterdam in 1982. Jimmy was signed in 1976 and replaced Burridge in the Villa number 1 shirt before going on to play 229 times for the club between '76 and '83. He was the ever-present rock in the title winning season of 1981 and was instrumental in reaching the European Cup Final the season after. He is still fondly thought of to this day by many who were lucky enough to have watched him.
Nigel Spink
Now for a player who needs no introduction at all – arguably one of our most famous players of all time. Nigel Spink. He was signed at 18 from Chelmsford City, and when his big moment came in the '82 European Cup Final, he had only played once in the first team. The rest is history. He went on to play over 460 times in a career that spanned 19 years with Villa, and also won the '83 Super Cup and the '94 League Cup.
Mark Bosnich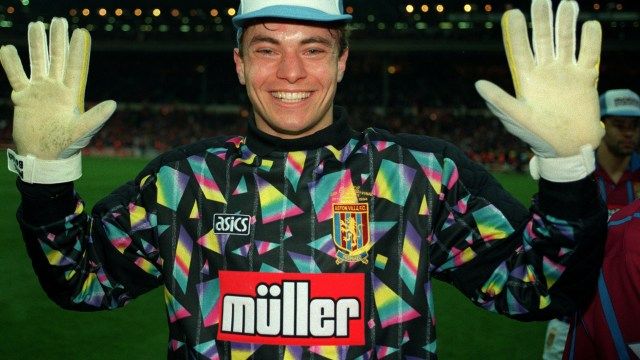 Our first foreign import to make the list, and one of the most memorable, is Mark Bosnich. Originally from New South Wales in Australia, Bosnich came to England to sign for Manchester United, but had to return home due to work permit complications. Villa managed to sign him in '92 and he went on to make over 200 appearances for Villa, including two League Cup wins in '94 and '96. Prolific penalty saver Bosnich was renowned as a superb shot stopper. It was a sign of how highly rated he became in England when Sir Alex saw him as the successor to Schmeichel. That move unfortunately didn't work out, but he will always be regarded as a Villa legend.
David James
One of the most iconic goalkeepers of the late 90s and early 00s was the flamboyant figure of David James. In June 1999, John Gregory paid Liverpool £1.8m to secure the services of one of the Premier League best keepers. James spent two relatively successful seasons with Villa, playing 85 times before being replaced by Peter Schmeichel. He was instrumental in getting Villa to the last ever FA Cup Final at the old Wembley, but unfortunately an early mistake in the showpiece final led to the only goal of the game.
Peter Schmeichel
Now for a player who only played for one season at Villa. Sometimes when you hear about a signing, it truly excites you, and that's exactly what happened in the July of 2001 when Villa announced the arrival of Peter Schmeichel. Still regarded as one of the best goalkeepers in the world at the time, it was amazing for fans to see a player of his quality at Villa. I was there at Goodison Park when he scored from a corner. Unfortunately he only had one season as Graham Taylor decided not to take up the offer of a second year.
Thomas Sorensen
The third foreign import on the list was a very dependable keeper indeed, and had a decent spell in the Villa goal spanning 5 seasons. Thomas Sorensen played 158 games and was retained by Martin O'Neill when David O'Leary left the club. A great shot stopper and a big vocal presence were the key to his long run at the club. Sorensen only lost his place after a knee injury kept him out the side, and eventually left once his contract had run down.
Brad Freidel
Onto one of my favourite Villa goalkeepers – Brad Freidel. The American signed for Villa in his late 30s, though his age never held him back as went on to become Villa's oldest ever player when he started against Liverpool; 40 years and 5 days old ! Friedel played 167 games for Villa and was an inspiration to the whole team with his enthusiasm and energy for the game. His 310 games in a row in the Premier League was also a record that still stands to this day – a true giant in every sense.
Shay Given
Another name in this list that oozed class is Shay Given, a keeper with proven pedigree, and at 35 when he signed was still at the top of his game. Given was a top class keeper and very well thought of at the club, although he didn't play as often as he would have liked (53 games). He remained Villa's GK during the run to the FA Cup Final in 2015, playing in every game. The highlight of that run was the fantastic 2-1 win against Liverpool in the semi final. He also had a spell as assistant under Paul Lambert.
Tom Heaton
The last name on this list is Tom Heaton. Whilst he has only played 20 times for us and is currently being kept out of the side by the magnificent form of Emi Martinez, I am including him because of his undoubted quality. Heaton was showing Villa all of his talent right up until his horrendous injury in January 2020 that kept him out for 12 months. As a player who has represented his country at every level, from U16s right through to full international, I think we can all agree that we signed a very good keeper in Heaton, whether he gets to show us again or not. Tom still has a lot to offer.
The journey to find our most iconic number shirt has now begun, and with the help of you, the fans, we can get a better idea as to what number it is. I have done a series of twitter polls for the best number 1, which have given me a final four that will now go forward to the big vote at the end of this series.
For future numbers, please get involved and cast your votes on your favourites for players 2-11, so we can get the best results possible.
The four goalkeepers that received the most votes are as follows:
JIMMY RIMMER | BRAD FRIEDEL | MARK BOSNICH | NIGEL SPINK
I think this is a fantastic start to this iconic numbers series, and it shows that the final vote will be a very tough call. While only four players from each number will reach the final vote, I still urge anyone who wants to take part to read each blog to see who missed the cut, as these players also make up the history of each number.
Next time on ICONIC NUMBERS, I will turn my attention to the number 2 shirt. Any feedback or memories of the players in this article or the next one are gladly received.
Thanks for reading. Justin.
UTV.
Subscribe to receive instant notifications on all blog releases of our Iconic Numbers feature. Up next Number Two.
ICONIC NUMBERS
ICONIC NUMBERS | An Introduction
---
UTV PODCAST | MERCH
---
Facebook and Twitter readers, click the respective icon below to follow our utvpodcast social media accounts.
Subscribe to utvpodcast.co.uk to receive instant notifications on all podcast and blog releases.
Help us grow and subscribe to our YouTube channel.