A 'terrific' goal. A terrific team. A terrific day. A horrific lack of joy over the next quarter of a century to follow…
If you had told 10-year-old me that our stunning and comprehensive 3-0 victory over Leeds in the League Cup final of 1996 was going to be our last trophy for 25 years, I simply wouldn't have believed you. And yet here we are in March 2021, a bittersweet anniversary month for the club we all love, reminiscing over those incredible scenes while also solemnly pondering about what could have been.
Before we get into the real heart of this story, let's skip back a further two years to 1994 where, for me, it all began.
I'd had a casual interest in football, and indeed the Villa since I was around six or seven years old. My entire family, barring the odd straggler, are all dyed-in-the-wool Villa fans, so I never really had a choice in who to support. Despite bearing the shame of being born deep within the enemy territory of West Bromwich, my blood is undeniably claret and blue. "I did not choose, I was chosen"; and I wouldn't have it any other way.
The real turning point, though, when my claret and blue obsession truly began, was our glorious and victorious 1994 League Cup run.
I was eight years old at the time of the final, and I remember the occasion as if it was yesterday. Tickets to the game itself had not been acquired by anyone in my family, so it was to be an armchair viewing for us. But we made the most of it with what my parents dubbed 'Claret and Blue Day'.
There were scarves, flags, banners all over our house, inside and out, and my mum had prepared quite the feast. Claret and blue cupcakes were the centrepieces of the matchday banquet, decorated with player names and numbers, 'AVFC', 'Up the Villa', etc. At that young age, it truly was an incredible sight!
We weren't going to win the game, of course, because simply nobody was giving us that chance. Pundits and friends alike would tell us to just enjoy the occasion. It had been a great run, and it was nice to be there in the final, but Man Utd had got this in the bag.
There's not much point in me going into depth about the game itself. That has been done to death. But my feelings that day have been pretty unmatched in the years since. Even our victory in the same competition two years later didn't evoke quite the same emotions, because I expected us to win that match. Whereas, in '94 I had fallen for the hype. I believed the predictions. I honestly never expected us to topple the giants that Man Utd was at the time. They were the biggest name in the game. So I was elated at such an achievement, and my undying love for Villa was truly born at that moment.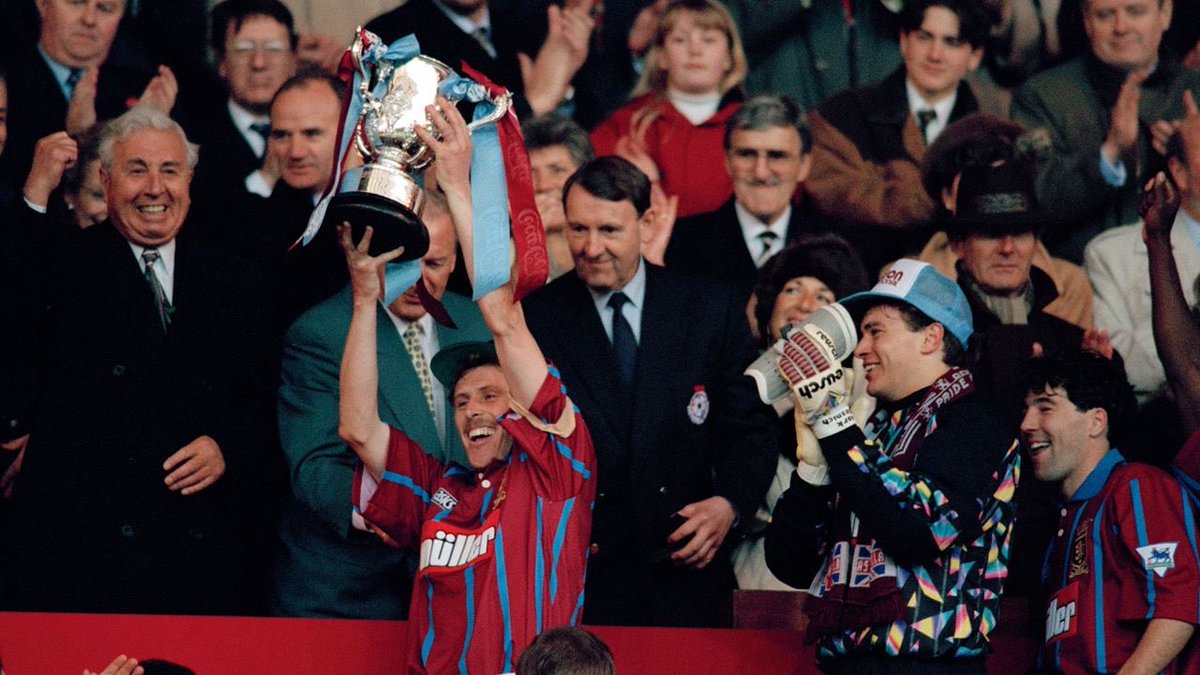 My enjoyment of the victory was extra special as I remember having loads of classmates who supported Utd, so I couldn't wait to get to back into school the next day and boast.
Even at such a tender age, with that momentous victory, I felt like I was onto a good thing with this club. It wasn't the league title, it wasn't the FA Cup, and it certainly wasn't the European Cup, but it still mattered.
Two years later, once again regrettably unable to attend the final, our family of Villans repeated our Claret and Blue Day theme from home. The same decorations adorned the house and the same magic unfolded on the pitch.
As previously stated, two years older and wiser (!), I did fully expect us to beat Leeds that day. The way we'd overcome Arsenal to reach the final, my confidence in the boys was sky-high. And that confidence was vindicated from the moment Savo unleashed that screamer of a shot.
By this point, I'm feeling like I'm onto a winner. Two trophies in two years. This is the life. Thanks, mum and dad! This Villa lark is some pretty special business, and I'm thoroughly excited about the stack of trophies to come.
Only, they didn't come. For years and years and years.
It's been a miserably long stretch without a single trophy (barring pre-season tournaments and, of course, the 2019 Playoff final), and for a club of our size and stature, it is simply unacceptable.
Don't get me wrong, it was nice to see Nigel Reo-Coker lift the Peace Cup in 2009, and of course, it was especially fulfilling to watch our Captain Jack raise the Championship Playoff Trophy aloft ten years later, but we only cling to those occasions so dearly because we have gone without "proper" cups for so long.
It isn't like we haven't had our chances to add to our impressive collection of silverware either. Without wishing to sound like Steve Bruce, we have been "there or thereabouts" across the decades. Since those two League Cup wins, we have of course been involved in four domestic finals and have come up short every time, albeit against decent opposition. We have developed a reputation of nearly-men, and that needs to change.
Under the current regime, I believe it will. There is success in this setup. I feel the club is in the best hands it could be, from the top down, and there is a clear long-term strategy here.
This season I have seen fans suggest this is our best "chance" at breaking into the upper echelons, and how we can't throw this golden opportunity away with a poor end to the season.
I don't see it quite that way. I don't want this to be a one-time shot at making Europe, and I don't believe it is. To me, that attitude suggests we are currently overachieving and need to make the most of it. That simply isn't the case. What we are doing is returning to our rightful place.
We are a club that should be dining at the top table, and competing for silverware year in, year out. If we continue along our current trajectory, that is a realistic possibility.
There's a lot of debate about which clubs are considered "big" and we are very often involved in that discussion. But we are beyond big. We are massive. We are one of the absolute elite clubs in world football. Our history and our tradition is far-reaching. Go anywhere in the world wearing an Aston Villa shirt and you will likely trigger a response. I say that from both personal experiences and have heard similar stories from others.
It may be something of a cliché, but I truly believe we are a sleeping giant who has finally woken up. The sheer scale of our progression over the last few years alone has been incredible. From putting together that magical ten-game winning run in the Championship, achieving promotion in the sweetest way possible, pulling off the greatest relegation escape ever, to sitting comfortably in the top half of the Premier League within just three seasons has been an amazing achievement, and I can't see it stopping there. Re-establishing ourselves in the top division was essential, but it isn't the endgame. Now it is time to take the next step and achieve some tangible success in the form of trophies.
Our time is coming. When we tell rival fans that we are back, we mean it. Deano is a natural-born winner, and as one of our own, he will be determined to lead us back to glory. Super Jack has proven his loyalty, and he will want that loyalty rewarded with success. He knows where this club can go, and he is the man to take us on that journey.
If we don't quite make the European qualification spot(s) this season, we mustn't be disheartened. We are made of sterner stuff than that. This season is not the end of the road. For the first time in a long time, I feel genuinely excited for what is to come. And I don't think Aston Villa will keep us waiting for another 25 years.
Thanks for reading, James.
UTV!
---
UTV PODCAST | LATEST NEWS
Check out the latest news from the UTV Podcast camp.
Remember, this is a channel built by fans for the the fans. It's a platform for anyone to come on and have their say – if it's joining us on a Fan Reaction show or getting involved in our written work like Fan Reports, Fan Stories, Player Focus and the popular Player Ratings or even just having your question answered on our Preview shows – it really is open to all.
It's a super chilled platform, so drop us a message or use our contact page.
---
AVFC FOUNDATION | TEAM WORK
The month of April is Stress Awareness Month and we teamed up with The AVFC Foundation to talk about the Foundation's TeamWork project which aims to bring Villa fans and the wider community together to help improve their mental and physical health.
Read more about The AVFC Foundation TeamWork project.
---
EURO 2020
Our coverage doesn't stop when the curtain comes down on Aston Villa's season, we'll be on air with Previews and Fan Reaction for all the big Euro 2020 games, plus our popular Player Ratings feature for the website – where you the fans do the ratings.
Use our contact page if you'd like to get involved over the Summer.
Check out our EURO Predicted XI show:
---
SOCIAL MEDIA
Facebook and Twitter readers, click the respective icon below to follow our utvpodcast social media accounts.
Subscribe to utvpodcast.co.uk to receive instant notifications on all podcast and blog releases.
---
UTV PODCAST | YOUTUBE
Help us grow and subscribe for free to our YouTube channel.
UTVPODCAST | SPOTIFY
Subscribe for free on Spotify
---
UTV PODCAST | MERCH