Sunday 4th April saw a rollercoaster ride of a match, as Aston Villa took on Fulham at Villa Park. Pre kick-off chaos ensued as Villa fans were frustrated to learn that captain Jack Grealish was to miss yet another game, despite the initial injury being downplayed. We are yet to learn the full extent of his condition, or when he will make his return, but Smith made do with his usual formation and El Ghazi took Jack's spot on the left-wing.
Fiery international performances had fans hoping for an injection of confidence in a side that looked dejected before the break, but we were forced to wait until the final fifteen minutes before any real fight was displayed.
The game began well for relegation-threatened Fulham, who did not shy away from goal, Aleksandar Mitrovic was given space within the opening few minutes to threaten Villa with their first shot on target. Martinez went on to make several further saves in the first half, as Mitrovic and De Cordova-Reid looked the most lively.
Villa had their fair share of opportunities, but they remained that – opportunities. The story of the first half was defined by a lack of quality in the final third, giving Martinez significantly more to do than Areola.
One of the few moments of note in the first half was a penalty shout for Aston Villa, overturned by VAR. McGinn receiving a push in the box was strangely overlooked as focus prioritised a potential foul on Watkins. With our early season sharpness missing, a penalty offered a lifeline that was not given. The first half ended goalless.
The feeling of apathy resumed after the break, with multiple shots fired towards the Villa net. The showing was epitomised by a misplaced backpass from interim captain Tyrone Mings, which was capitalised on by Mitrovic. The visitors were perhaps deservedly put ahead in the sixty-first minute in the most disappointing of manners.
Considering Villa's record when conceding first, no one could predict the impact Fulham's goal would have on the game. An immediate substitution followed as Trezeguet replaced El Ghazi, in a classic Dean Smith swap. With over half an hour of the game left to play, Trezeguet was given enough time to aid the team's recovery – and that he did.
With the introduction of Aston Villa's hardest-working player, soon followed by Keinan Davis then Jacob Ramsey for Morgan Sanson and Douglas Luiz respectively, the dynamic began to change. With two recognised strikers on the field, the pressure was shared between Davis and Watkins, reducing the detached set-up we have suffered in recent performances.
Captain Mings, eager to amend his mistake, provided the route to an equaliser through his cut back to Trezeguet from the left-wing, setting up the Egyptian to slot it home. It was an inspired effort from a freshly humbled player and a hungry substitute, aided by a one-two with Matt Targett in the build-up. With just over ten minutes remaining, we were level.
The effect of equalising was instant; belief poured back into a side that had looked lifeless for weeks. Pressure remained firm on the Fulham defence, only exaggerated by the strong presence of Davis. Having a solid twenty-minute appearance allowed a greater chance for Villa's backup striker compared to his usual cameos. This opportunity was seized with all of Davis' strength and desire, as he pressed high and won back the ball in a dangerous position. He powered forwards on the ball and delivered the perfect cross over the heads of Watkins and the Fulham defenders to meet Trezeguet at his trusty back post for his second. With Trezeguet on a hattrick and Davis passionately celebrating his assist, it was clear that the mentality of the substitutes had fuelled our recovery.
Within the same ten minutes as our equaliser, Watkins put the game to bed with a close-range goal assisted by Bertrand Traore's less favourable right-footed cross. The game finished 3-1 to Aston Villa. After embarrassingly poor work for the vast majority of the match, it was incredible to witness what a change in formation, mentality, and a few pairs of fresh legs could do for a disheartened team. Although Villa should be looking to win such a fixture, the whirlwind of goals and a huge display of character made this a scoreline to celebrate.
UTVPODCAST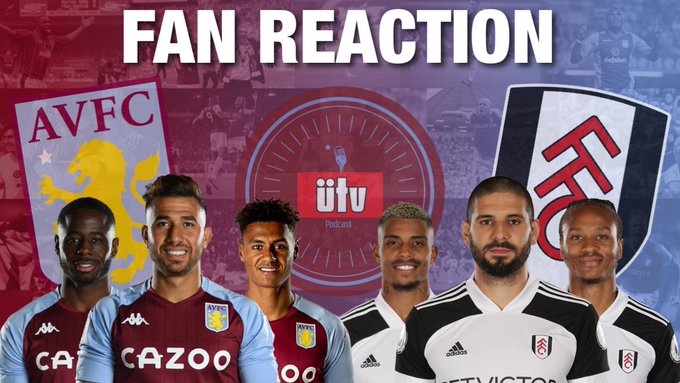 ---
UTV PODCAST | LATEST NEWS
Check out the latest news from the UTV Podcast camp.
Remember, this is a channel built by fans for the fans. It's a platform for anyone to come on and have their say – if it's joining us on a Fan Reaction show or getting involved in our written work like Fan Reports, Fan Stories, Player Focus and the popular Player Ratings or have your question answered on our Preview shows – it is open to all.
It's a super chilled platform, so drop us a message or use our contact page.
AVFC FOUNDATION | TEAM WORK
The month of April is Stress Awareness Month and we teamed up with The AVFC Foundation to talk about the Foundation's TeamWork project which aims to bring Villa fans and the wider community together to help improve their mental and physical health.
Read more about The AVFC Foundation TeamWork project.
---
EURO 2020
Our coverage doesn't stop when the curtain comes down on Aston Villa's season, we'll be on air with Previews and Fan Reaction for all the big Euro 2020 games, plus our popular Player Ratings feature for the website – where you the fans do the ratings.
Use our contact page if you'd like to get involved over the Summer.
Check out our EURO Predicted XI show:
---
SOCIAL MEDIA
Facebook and Twitter readers, click the respective icon below to follow our utvpodcast social media accounts.
Subscribe to utvpodcast.co.uk to receive instant notifications on all podcast and blog releases.
---
UTV PODCAST | YOUTUBE
Help us grow and subscribe for free to our YouTube channel.
UTVPODCAST | SPOTIFY
Subscribe for free on Spotify
---
UTV PODCAST | MERCH