The wait for a league double over Liverpool goes on! Ollie Watkins gave us hope with the opener but goals from Mo Salah and Trent Alexander-Arnold seal the win for Liverpool.
UTV Podcast team members Ryan Mckeown (RM) and website editor Hannah Gowen (HG) are joined by two Player Ratings debutantes – Luke O'Dell (LO'D) and Tom Parker (TP).
If you'd like to join us for a game on this super chilled platform, please drop us a message.
STARTING LINE-UP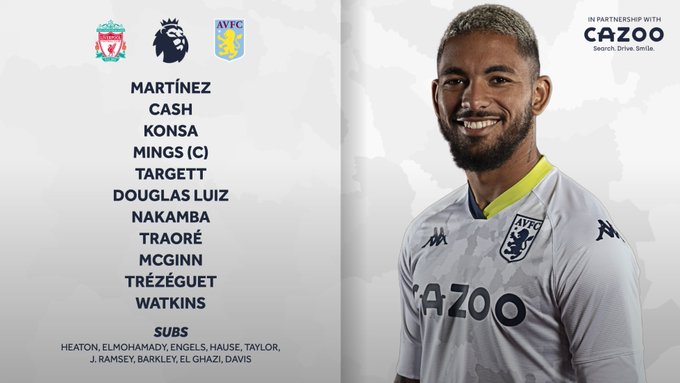 Formation 4-2-3-1
Emi Martinez – 7 *MOTM
Oh, the life of a goalkeeper. I should know, I am one. Just as this paragraph was about to revolve around his point-saving stop late on, up stepped Trent Alexander-Arnold mere seconds later to bag a winner. It was a game of smart saves and crucial claims for the Argentinian, with Liverpool's dominance generally not incisive enough to demand anything spectacular. If I wanted to be critical, I might point out that he perhaps he should have directed the initial shot away from Salah immediately before Liverpool's first goal. But I don't, so I won't. (TP)
Matty Cash – 6
Cash was strong where needed today, dealing with Jota and Robertson for the most part and often overcompensating defensively when others failed to track back and cover with him. Had a momentary scare when he failed to clear a cross for Liverpool's initial offside goal, but ultimately his performance was okay. (HG)
Ezri Konsa – 6
Didn't put a foot wrong all game, was kept busy by the Liverpool attack for the majority of the game. (LO'D)
Tryone Mings (C) – 6
He's become a polarising figure among our support as of late, so let's be clear that I'm Team Tyrone all the way. That said, I think even Mings' biggest backers would be concerned to see the big man making a big error for a second successive week, which mercifully went unpunished this time. Tyrone redeemed himself somewhat by playing his part in a decent enough rearguard action, but he can't afford too many more of those mistakes if he has aspirations of a place at the Euros. (TP)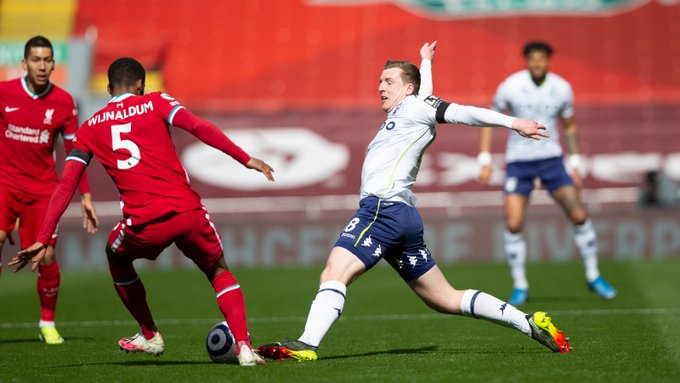 Matt Targett – 6.5
Unlucky not to have registered an assist with a terrific set-piece delivery for Konsa's first-half header, which the centre-half should have done better with – especially as I had a £5 on Konsa, first goal-scorer at 50/1!
Did well against Salah and TAA, putting in block after block! (RM)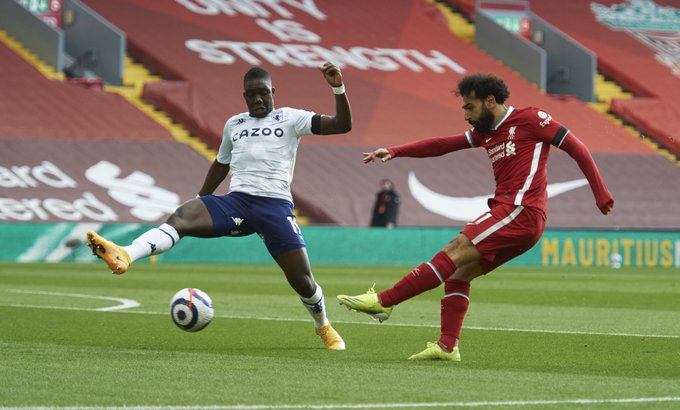 Marvelous Nakamba – 7
Returned to the starting eleven for the first time since our defeat against Sheffield United. Broke the play up well and added a bit of steel to the midfield three. Nakamba was slightly on his heels tracking Robertson's run that led to him getting his shot away, and Salah finishing the rebound – but that is me being very critical!
Unlucky to be subbed over others. (RM)
Douglas Luiz – 6
Had slight more creative license with the admission of Nakamba to the starting lineup, and he did make some effort to get forward. Had an early headed chance but nothing to worry the Liverpool keeper. Had an injury concern in the first half but managed to shake it off after staking his claim to stay on to the medical staff. Got a silly booking, but was probably the most present and stable of the midfield today. (HG)
John McGinn – 5
Had a bit more energy about him this weekend which made the difference leading up to the goal for a great assist to Watkins. McGinn used his body well to draw fouls. (LO'D)
Bertrand Traore – 4
Bertrand Traore is a player that excites and frustrates me in equal measure. Today, unfortunately, it was the latter. In addition to giving the ball away cheaply on several occasions, defensive effort on a wing where Liverpool looked threatening was severely lacking. A smart spin and through ball to Trezeguet in the 35th minute was ultimately as good as it got. Must do better. (TP)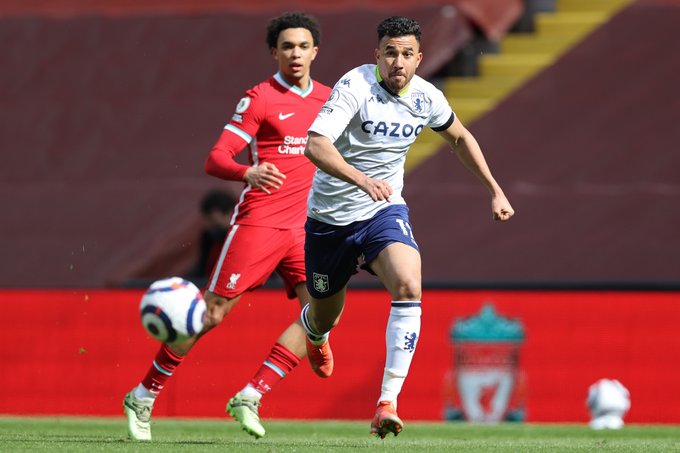 Trezeguet – 6
After a super-sub performance last week against Fulham, Trezeguet failed to make a similar impact from the outset as Smith gave him the start. His work rate was decent and he did have a brilliant chance in the second half, just hitting the post. Pulled up late in the second half with a painful-looking knee injury, so could potentially be his last appearance of the season. (HG)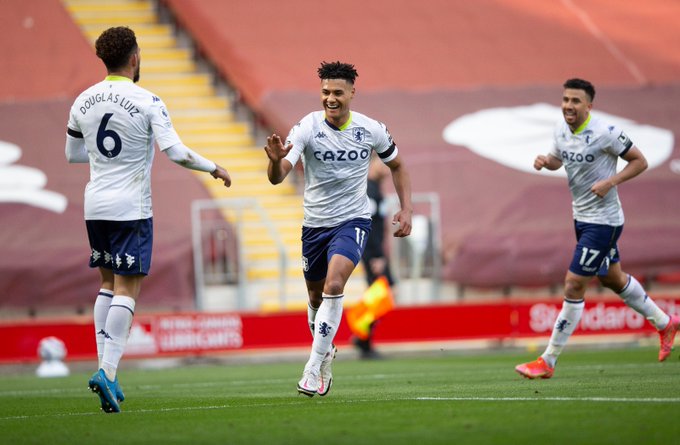 Ollie Watkins – 7
Made some good runs in behind the Liverpool defence and come away with a poachers finish to give Villa the lead. Apart from that, he was feeding off scraps from the Villa wingers. (LO'D)
Substitutes
Ross Barkley – on for Nakamba (65th minute) -4
The guy is seriously lacking any confidence! Awful mis-cued clearance in our box which luckily we got away with, but it set the tone for his overall cameo. Hit a long-range effort which was comfortable dealt with, and collided with Ramsey when trying to get a shot off prior to Liverpool's winner!
Anwar El Ghazi on for Traore (68th minute) – 4
Could he of done better with the clearance that lead to TAA goal? Maybe I'm being harsh!
Jacob Ramsey on for Trezeguet (82nd minute) – 5
Entered the game in replacement of the injured Trezeguet to provide energy to the midfield. (RM)
SUBS NOT USED: Heaton, Engels, Taylor, Hause, Elmohamady, Davis.
WATKINS GOAL
PLAYER REACTION
UTVPODCAST
---
UTV PODCAST | LATEST NEWS
Check out the latest news from the UTV Podcast camp.
Remember, this a channel built by fans for the the fans. It's a platform for anyone to come on and have their say – if it's joining us on a Fan Reaction show or getting involved in our written work like Fan Reports, Fan Stories, Player Focus and the popular Player Ratings or even just having your question answered on our Preview shows – it really is open to all.
It's a super chilled platform, so drop us a message or use our contact page.
---
AVFC FOUNDATION | TEAM WORK
The month of April is Stress Awareness Month and we teamed up with The AVFC Foundation to talk about the Foundation's TeamWork project which aims to bring Villa fans and the wider community together to help improve their mental and physical health.
Read more about The AVFC Foundation TeamWork project.
---
EURO 2020
Our coverage doesn't stop when the curtain comes down on Aston Villa's season, we'll be on air with Previews and Fan Reaction for all the big Euro 2020 games, plus our popular Player Ratings feature for the website – where you the fans do the ratings.
Use our contact page if you'd like to get involved over the Summer.
Check out our EURO Predicted XI show:
---
SOCIAL MEDIA
Facebook and Twitter readers, click the respective icon below to follow our utvpodcast social media accounts.
Subscribe to utvpodcast.co.uk to receive instant notifications on all podcast and blog releases.
---
UTV PODCAST | YOUTUBE
Help us grow and subscribe for free to our YouTube channel.
UTVPODCAST | SPOTIFY
Subscribe for free on Spotify
---
UTV PODCAST | MERCH