Hi all, and welcome back to the ICONIC NUMBERS series! The Number 3 article was the most successful yet and I'm really chuffed so many of you are enjoying the blogs.
We now move on to the number 4, a shirt number worn mainly by our central defenders, although a few midfielders have chosen to take the number, notably Steve Sidwell in 08/11. There has also been a crossover of centre halves who have worn both the 4 and 5 shirt at Villa, so for this instance I've chosen the shirt that was worn for longer and the shirt the player was best know for. For example, Paul McGrath wore the 4 from 89/91, but moved to the 5 after Derek Mountfield had vacated it – I will talk more about GOD next time.
So as always, I will list all the players who have worn the 4 shirt from '75 onwards, then I've highlighted the top 10 in my opinion, and we will finish with the top 4 players in the fans vote that have represented the shirt. Once all the blogs from 1-11 have been written, we will vote on the most iconic number. If you are reading this, it would really help future votes if I could reach as big a cross section of Villa fans as possible to vote – so if you could share it, that would be greatly appreciated.
Ian Ross 75/76
Leighton Phillips 75/78
Brendon Ormsby 83/84
Darren Bradley 84/85
Gary Williams 83/85
Steve Foster 84/85
Martin Keown 86/87
Allan Evans 77/89
Shaun Teale 91/95
Gareth Southgate 95/01
Olof Mellberg 01/08
Steve Sidwell 08/11
Philipe Senderos 13/14
Ron Vlaar 12/15
Micah Richards 15/17
Christopher Samba 17/18
Axel Tuanzebe 18/19
Ezri Konsa 20-
As you can see from the list we have had some superb players don the number 4 shirt for our club. I've picked my person top 10 to delve a little deeper into their time at Villa.
IAN ROSS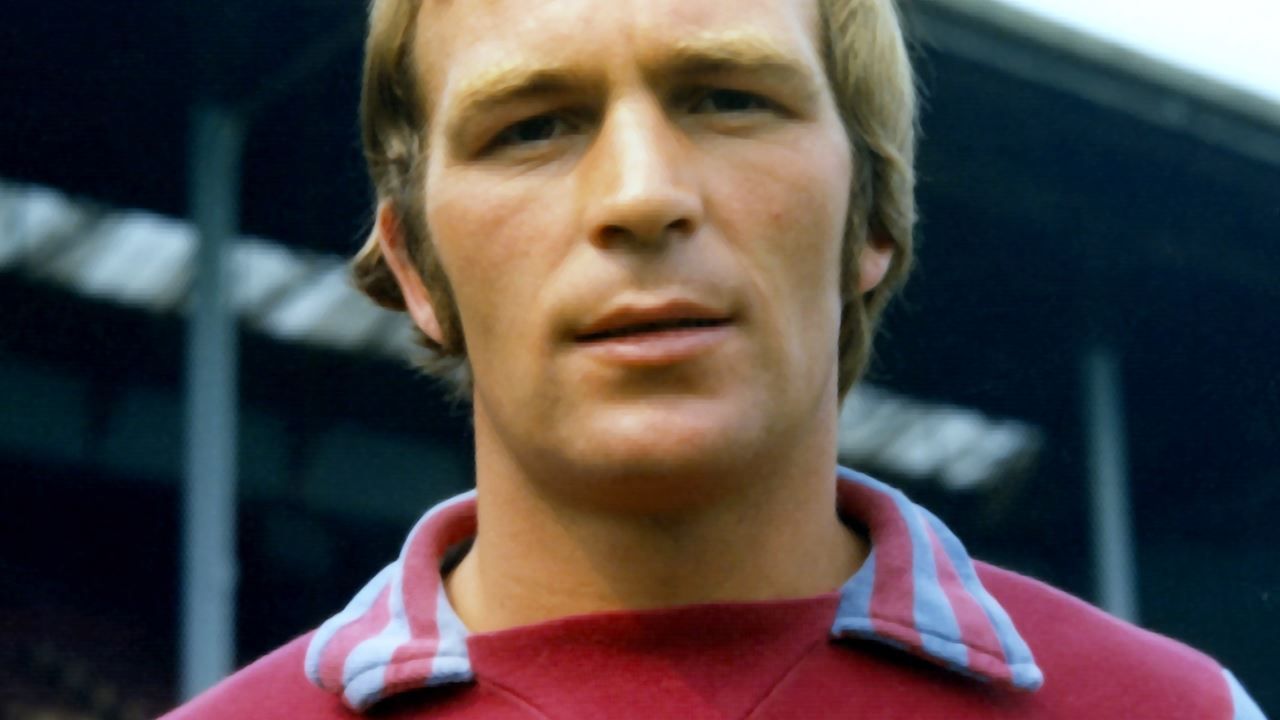 Ian signed for Villa in 1972 from Liverpool and helped to win the third division title within a few months. He went on to captain the club that won the league cup and earn promotion to the first division in the 74/5 season. He only missed four games in three seasons before leaving to sign for Peterborough in '76. He played 205 games, scoring 3 times
LEIGHTON PHILLIPS
Leighton signed for Villa from Cardiff city in 1974, a cultured centre half by the time he came to the club after playing all over the pitch for Cardiff. Philips missed out on the '75 League Cup win after being cup tied, but went on to lift the same trophy in '77. Phillips was later made captain of Villa by Ron Saunders, but was sold on to Swansea in '78. He played 58 times for Wales and made 175 appearances for Villa, scoring 4 times.
MARTIN KEOWN
Keown signed for Villa from Arsenal in June 1986 for £200k. Unfortunately, he joined the club during a poor period in its history, having only just avoided the drop the season before. Keown suffered relegation that first season having played under both Graham Turner and Billy McNeil. That's where the bad times ended as Graham Taylor arrived at Villa Park, and the transformation was instant.
Keown was key to Taylor's plans and barely missed a game, scoring three times and finishing runners up before getting promoted straight back to the first division. Keown then went on to help the club consolidate their place in the top flight before being sold on to Everton for £750k in '89. Keown subsequently had a fantastic career with Arsenal and England. He played 132 times for Villa, scoring 3 times.
ALLAN EVANS
Allan Evans signed for Aston Villa from Dunfermline Athletic in 1977. Initially a centre forward, he converted to a centre half and was pivotal in forming one of the most successful periods to Villa. Creating a partnership with Ken McNaught, he helped Villa to win the League Title in '81, the European Cup in '82 and the European Super Cup in '83. Latterly he captained Villa and helped the club to promotion in '88. He also returned to Villa as part of Brian Little's back room team that won the League Cup in '96. A true club legend, he played 466 games, scoring 60 times, and sits 5th in the most appearances table.
SHAUN TEALE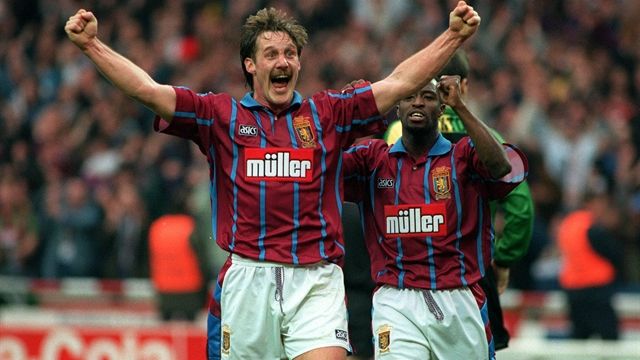 Shaun Teale signed for Villa in 1991 from Bournemouth and quickly established himself in the first team alongside Paul McGrath. Teale and McGrath formed a formidable partnership. In 1993, he helped Villa to runners-up in the Premier League, and in '94 he was a big factor in beating red hot favourites Man Utd to lift the League Cup – my first taste of silverware as a fan. Teale made 147 appearances for the club, scoring twice before leaving to sign for Tranmere in 1995.
GARETH SOUTHGATE
Gareth Southgate signed for the club for £2.5m from Crystal Palace in '95, initially coming as a central midfielder. He was quickly converted to centre half and took to it like a duck to water. He went on to win the League Cup in '96 and helped Villa to qualify for Europe. He also played in the FA cup Final of 2000. Southgate's Villa form led to him becoming a regular for England during his stay. His period at Villa ended on a sour note after putting in a transfer request, stating he needed to move to further his career and then signed for Middlesbrough. He played 243 times, scoring 8 times.
OLOF MELLBERG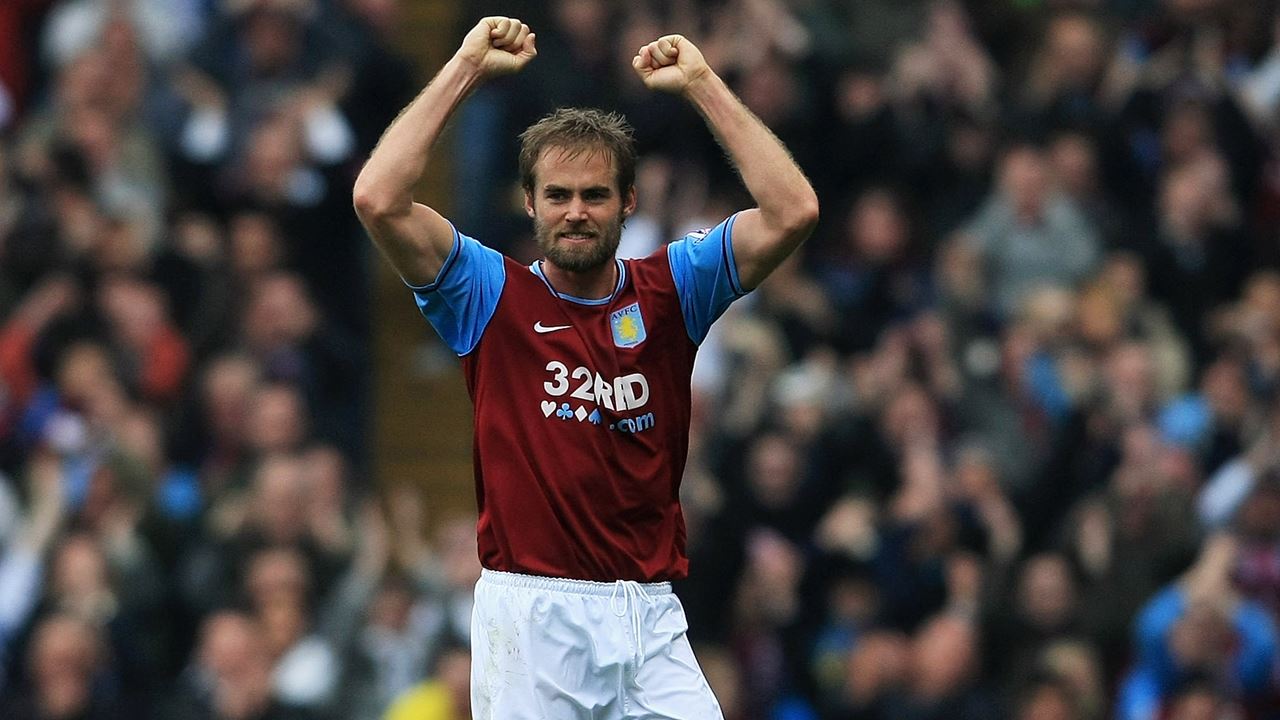 Olof signed for Villa from Racing Santander after being linked with Barcelona. He quickly became a cult figure with the Villa fans, who loved the way he played and his beard. He was appointed Captain under O'Leary and helped the side to 6th in the top flight. He will always be remembered for his comments on Birmingham City before a derby game, saying "I just feel, I've got the feeling, that I just don't like them".
In 2008, he signed a pre-contract agreement with Italian giants Juventus and, in an unprecedented move on the last day of the season, and his last ever Villa game away at West Ham, he paid £40,000 to get 3,100 shirts printed and he gave one to every away fan !! If that doesn't elevate you to club legend status, then nothing will. He played 260 games and scored 8 times, including the first ever goal at the new Emirates stadium. I was lucky enough to have lunch with him once and I can confirm, he was a top man.
RON VLAAR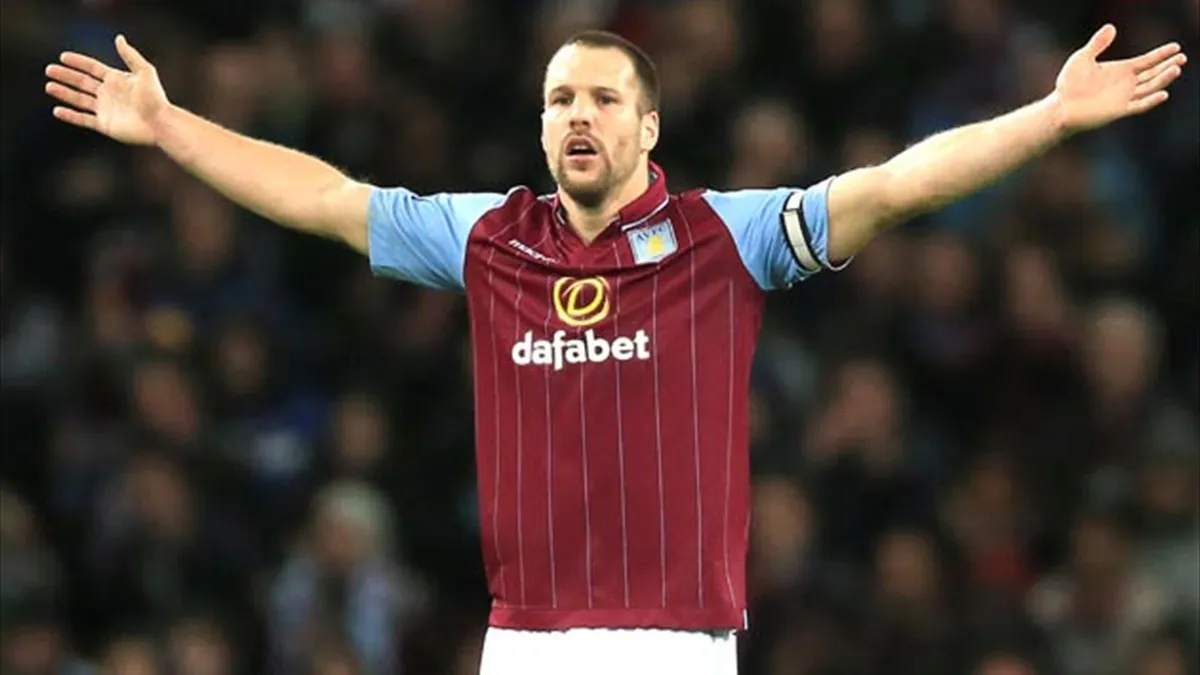 "CONCRETE" Ron Vlaar only played 88 times for Villa, but was a bit of a cult hero amongst some fans. Perhaps it was the nickname he came with, or maybe the video of him singing on the tannoy at Feyenoord. He was certainly a character and left it all on the pitch, taking over the Captain's armband and leading from the front. He was very vocal when Villa only just escaped relegation in 2013, telling the players it wasn't good enough. His time was blighted by a series of injuries and in 2015, he turned down the offer of a new contract and left on a free, moving back to his native home of Holland.
Something I will always remember is that whenever he picked the ball up and came forward, the crowd would shout "shoooot". Memorably against Sunderland, he scored a 30 yarder and the roof nearly came off!!
AXEL TUANZEBE
Putting a player in that was only a loan and only played 35 times might seem odd on face value, but Axel Tuanzebe's contributions to Villa cannot be overlooked. Signing on-loan from Manchester United in January 2018, he played 5 times before getting injured and returning to Man Utd. After recovering from this set-back, he re-signed a loan agreement for the 2018/19 season and quickly established himself in the back 4. He struck up a fantastic partnership with Tyrone Mings from January onwards, which led the club to glory in the Play-Off Final at Wembley.
Many fans wanted to see the move made permanent, but United took him back with a view to play him. I'm sure after the tough time he's had from some United fans, I wont be the only Villa fan who would welcome him back to Villa Park this summer if we need another central defender.
EZRI KONSA
If Paul McGrath will always be remembered at Villa Park as GOD, then Ezri Konsa is on track to be forever known as Villa's ROLLS ROYCE.
Signing from Brentford for £12m in 2019, Konsa was seen as one for the future. The future has rapidly arrived. This lad is the real deal and a future England international for sure. Let's not forget, he's already a World Champion, winning the 2017 U20 World Cup with England. A no nonsense, composed, athletic centre half, he does remind me of McGrath but with better knees. If he goes on to achieve anything like McGrath did, then Villa are in for a fantastic few years! He has passed the 50 appearances mark already and bagged 4 goals.
FINAL FOUR
Once again, thank you for reading.
This series is just a fun look at the players who have worn the shirts 1-11 for our club, and I'm trying to see which of those numbers is our most iconic. As usual, I've done a twitter poll and, out of the 10 players I've highlighted, we've found our favourite 4 that will represent the number 4 in the final poll. It is also be important to note that the other players quoted in each article are considered in the final to get an overall idea of which shirt is the most iconic number, and the overall winner.
So here are the top four number 4s, as voted by you. Please look out for the next poll for the number 5 shirt, and share to get as many votes as possible.
ALLAN EVANS
OLOF MELLBERG
SHAUN TEALE
EZRI KONSA
Thanks for reading, and please follow me and UTVpodcast for the rest of this series. I hope you are enjoying reading as much as I am enjoyed reliving these players and their memories.
UTV.
Subscribe to receive instant notifications on all blog releases of our Iconic Numbers feature. Up next Number Four.
ICONIC NUMBERS
ICONIC NUMBERS | An Introduction
---
UTV PODCAST | LATEST NEWS
Check out the latest news from the UTV Podcast camp.
Remember, this is a channel built by fans for the fans. It's a platform for anyone to come on and have their say – if it's joining us on a Fan Reaction show or getting involved in our written work like Fan Reports, Fan Stories, Player Focus and the popular Player Ratings or have your question answered on our Preview shows – it is open to all.
It's a super chilled platform, so drop us a message or use our contact page.
AVFC FOUNDATION | TEAM WORK
The month of April is Stress Awareness Month and we teamed up with The AVFC Foundation to talk about the Foundation's TeamWork project which aims to bring Villa fans and the wider community together to help improve their mental and physical health.
Read more about The AVFC Foundation TeamWork project.
---
EURO 2020
Our coverage doesn't stop when the curtain comes down on Aston Villa's season, we'll be on air with Previews and Fan Reaction for all the big Euro 2020 games, plus our popular Player Ratings feature for the website – where you the fans do the ratings.
Use our contact page if you'd like to get involved over the Summer.
Check out our EURO Predicted XI show:
---
SOCIAL MEDIA
Facebook and Twitter readers, click the respective icon below to follow our utvpodcast social media accounts.
Subscribe to utvpodcast.co.uk to receive instant notifications on all podcast and blog releases.
---
UTV PODCAST | YOUTUBE
Help us grow and subscribe for free to our YouTube channel.
UTVPODCAST | SPOTIFY
Subscribe for free on Spotify
---
UTV PODCAST | MERCH