England have done it.… We're in the EURO 2020 FINAL!!!
England Captain Harry Kane followed up his missed penalty to fire England into the Final!
It wasn't a straightforward night – This is England after all, did we expect anything else? Mikkel Damsgaard opened the scoring with a well executed free-kick for Demark, breaching our defence for the first time this tournament.
England forced home an equalizer 9 minutes later, Saka doing well on the wing before firing a cross into a box that was turned home by Denmark' captain Simon Kjaer under serious pressure from Raheem Sterling.
Italy awaits for our first ever European Championship Final on Sunday evening at Wembley – COME ON ENGLAND – IT'S COMING HOME!!
Let's see how the fans rated the players, joining us today – Justin Hawthorne, Aaron Clark, Georgia Homer, Hannah Gowen, Gary Plaza and Ryan Mckeown.
If you'd like to join us for a game on this super chilled platform, please drop a message in the comment box at the bottom of this article.
STARTING LINE-UP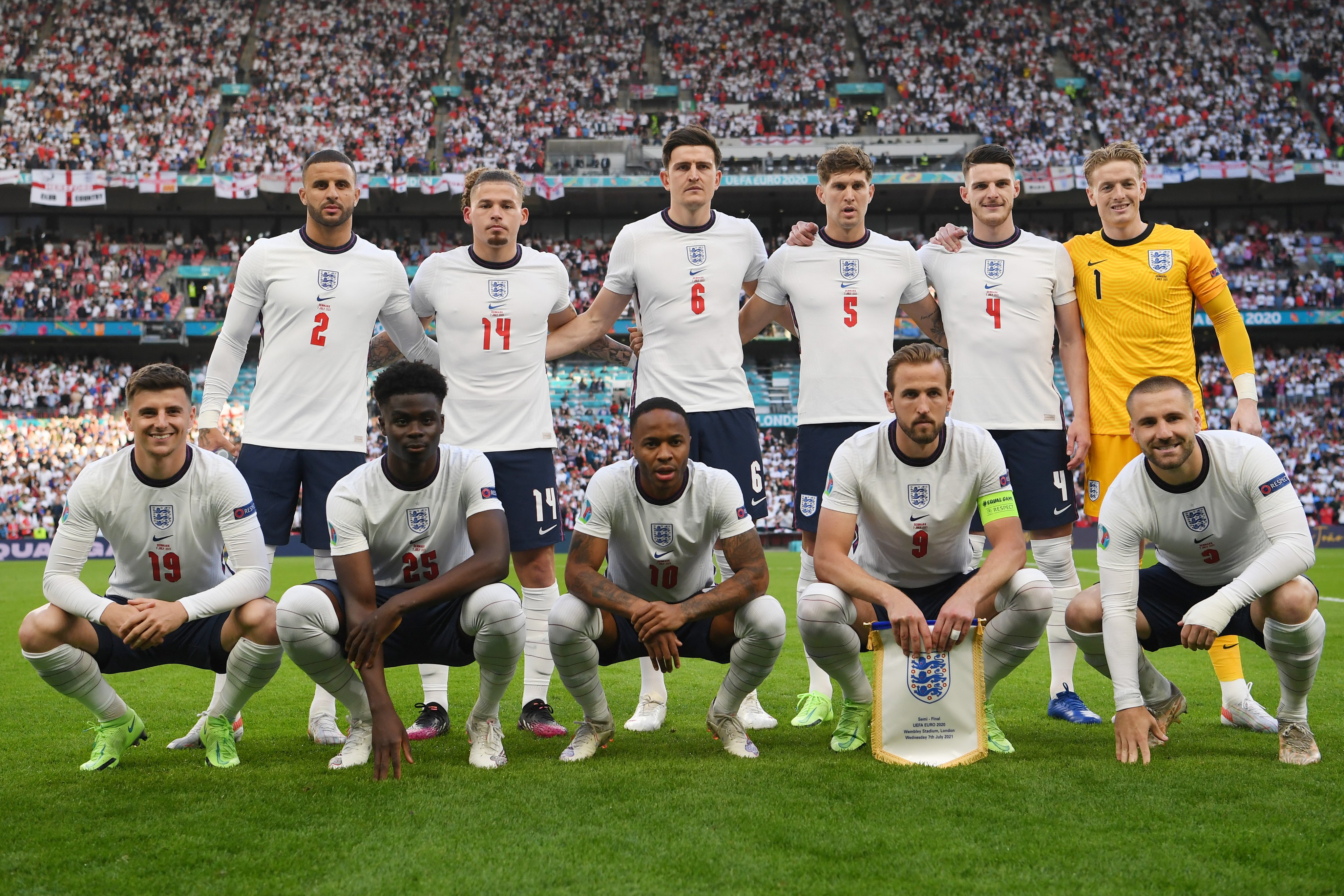 Formation 4-2-3-1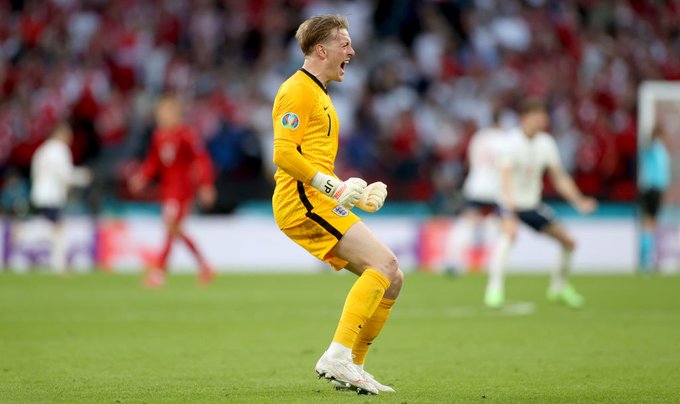 Jordan Pickford – 6.5
I felt Pickford had no chance with Damsgaard's perfectly executed free-kick.
Lapse with his distribution throughout the first half but improved in the second half. (Ryan)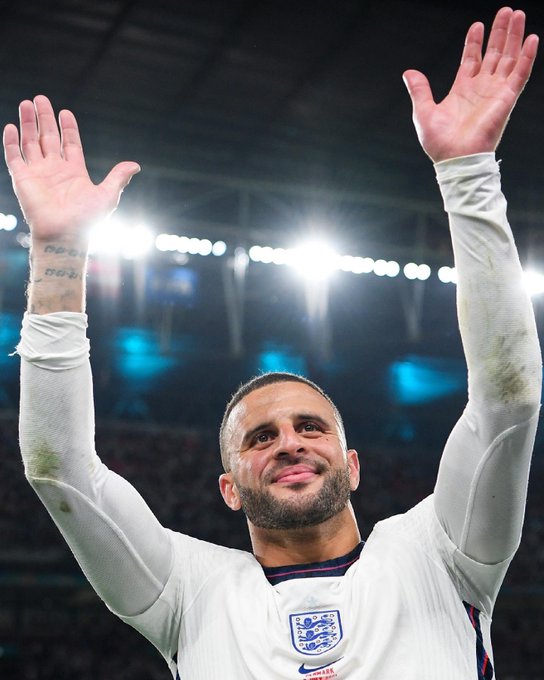 Kyle Walker – 9
One of the standout performances. Walker's pace rescued us several times as he tidied up several dangerous situations.
Perfect reading of the game and still yet to be dribbled past in the tournament. Not afraid to push forward either. (Georgia)
John Stones – 7.5
A very similar night to Maguire, looked a bit shaky at times and lost his composure a couple of times, needs to be on top top form on Sunday to keep the Italians at bay. (Justin)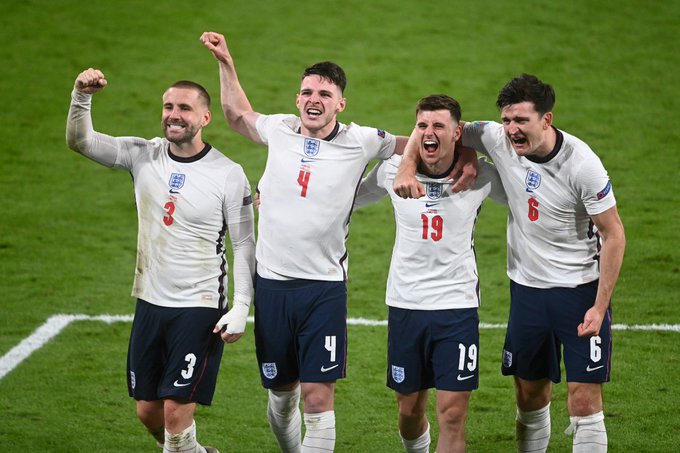 Harry Maguire – 7.5
Probably his toughest game tonight especially in the first half when Denmark took control and went ahead.
Regained his composure and was a threat in the oponants box, very unlucky to be booked as well. (Justin)
SPREAD THE WORD
PLAYER RATINGS | England 2-1 Denmark (AET) – Check it out! #ThreeLions #ENG #EURO2020

Tweet
---
Luke Shaw – 8
Another solid performance from the fullback. Has been one of England's better players throughout this competition and tonight gave another great show.
Linked up lovely with the middlemen and Saka down the left and defended tremendously well. Superb! (Aaron)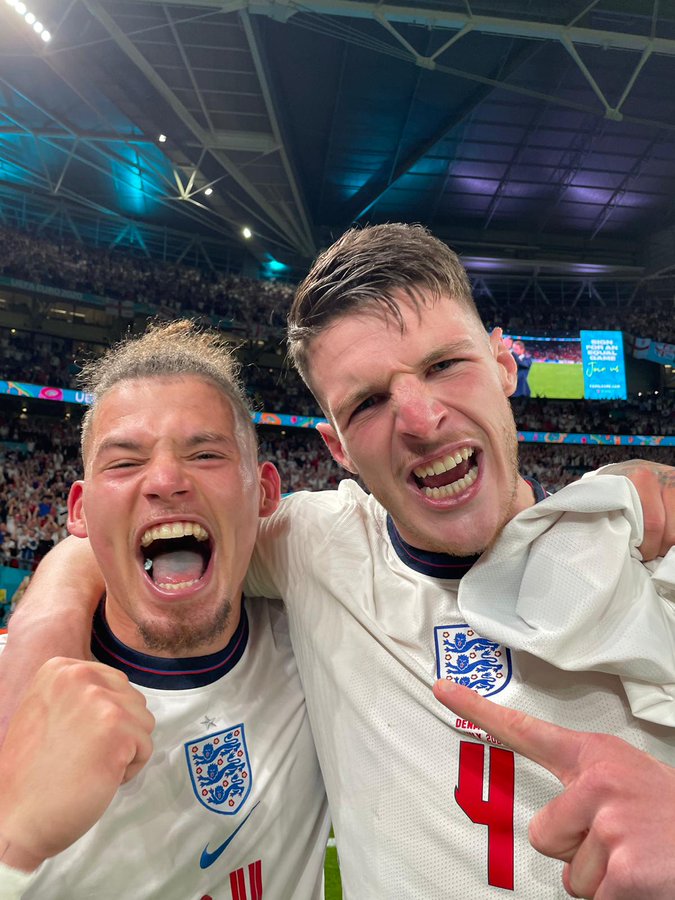 Declan Rice – 7.5
Very tidy but overall a negative first half. Every ball went backwards with no real desire to get the team up the field.
Second half he massively improved, got the team forward and battled well running the midfield more than anyone else. Surprised to see him subbed off so early in extra time. (Gary Plaza)
---
MANSCAPED
Get 20% OFF @manscaped + Free Shipping with promo code UTVPODCAST at MANSCAPED.com! #ad #manscapedpod
---
Kalvin Phillips – 7
Phillips had a very quiet first half and struggled to make any impact on the game.
Grew into it as the minutes passed and ended up being a decent performance. Did what he had to do and tried to get forward and attack when possible. (Hannah)
Mason Mount – 6.5
Mason had a rollercoaster evening in my opinion, looked lost at times and brilliant at others. Up and down performance.
A Southgate staple, he will always get opportunities to impress. Just hasn't shown the game-changer ability we all know he has. Not terrible but nothing to shout about. (Aaron)
SPREAD THE WORD
PLAYER RATINGS | England 2-1 Denmark (AET) check it out! #ThreeLions #ENG #EURO2020

Tweet
---
Raheem Sterling – 8.5
Great energy from the off! His play dropped off for a while it resulting in a lapse in concentration where he let the ball roll over his foot and out of play. This seemed to sort him out and shortly after he hit a golden chance straight at the keeper when it seemed easier to score. Finished the half very well forcing Kjaer to play the ball into his own net.
Second half he became a passenger and very selfish on the ball when in possession. Extra time was much better and he started well attacking and trying to make things happen. Earned the penalty with a superb run into the penalty area which put us in the final! (Gary Plaza)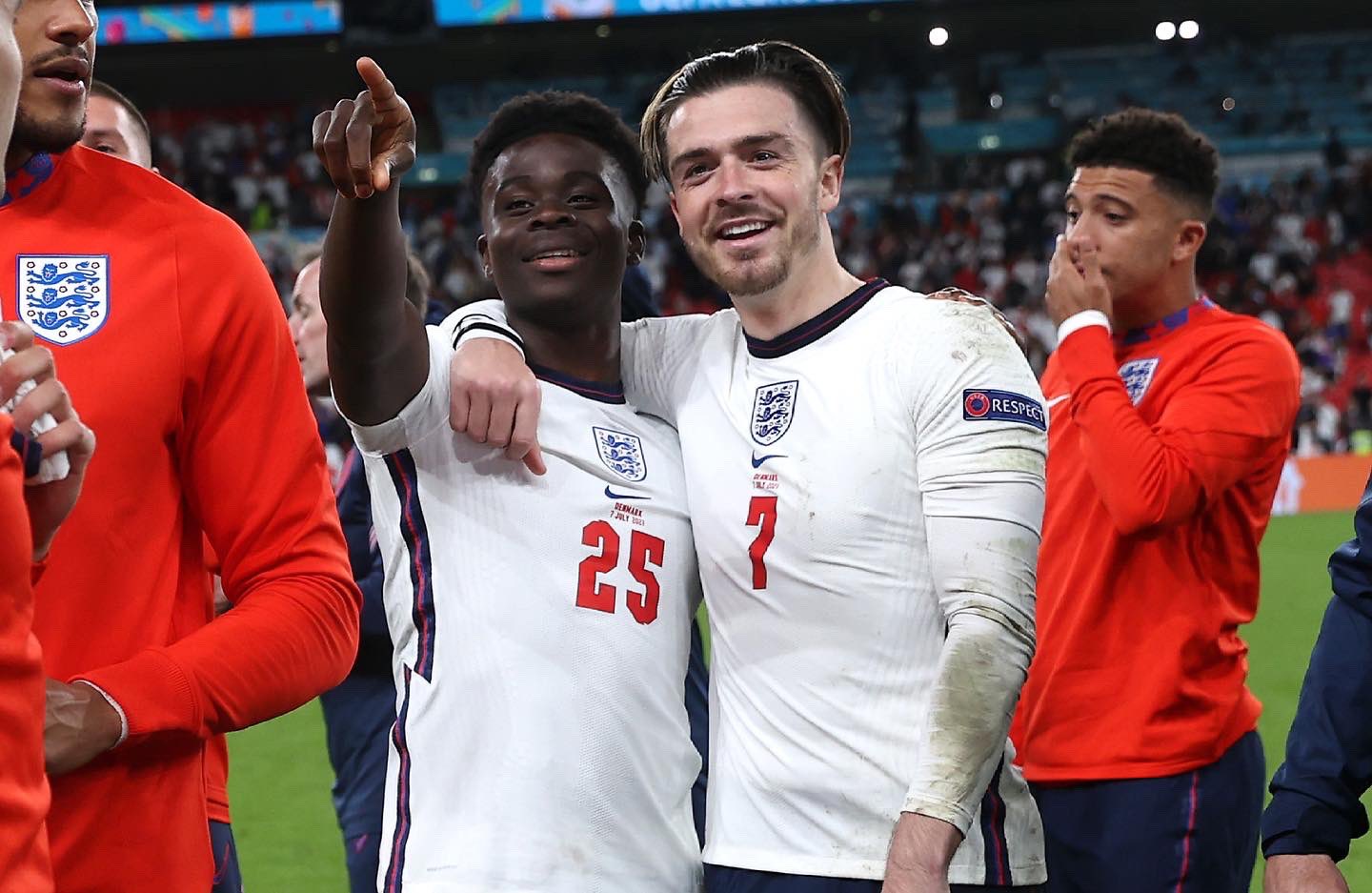 Bukayo Saka – 8
Another bright game for Saka, who is quickly becoming the most consistent player in terms of energy and effort. A constant threat down the wing, Saka's cross created the own goal that got England back into the game.
Subbed off after throwing 100% against Denmark, the youngest ever male player to start for England in an international semi-final looks set to take his place again on Sunday. (Georgia)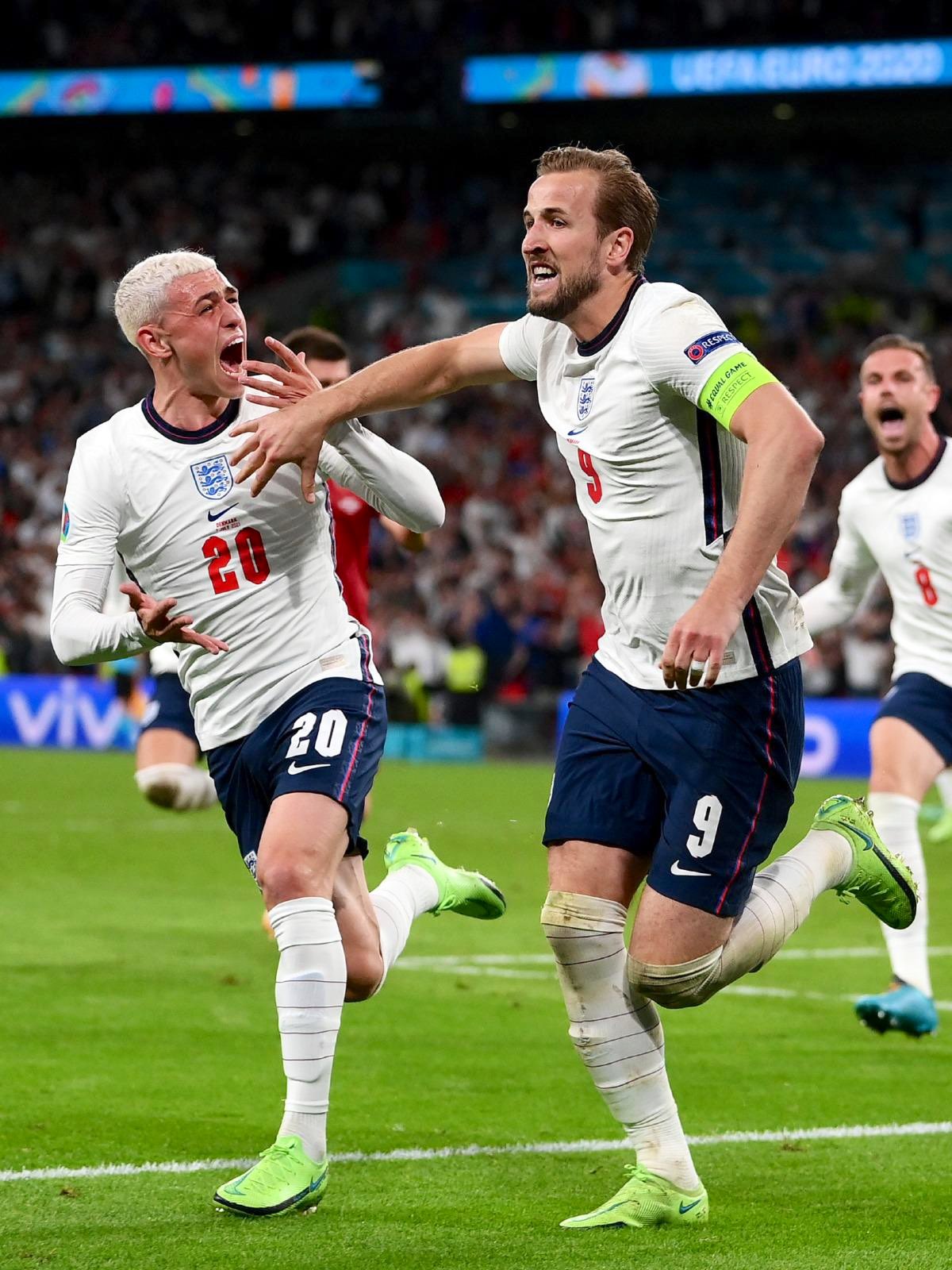 Harry Kane – 8
Best game of the tournament for Kane as his movement and overall energy for the game seem much improved. Made an excellent through ball to Saka for the equaliser and (just about) put away the winner from a penalty rebound. (Hannah)
Substitutions: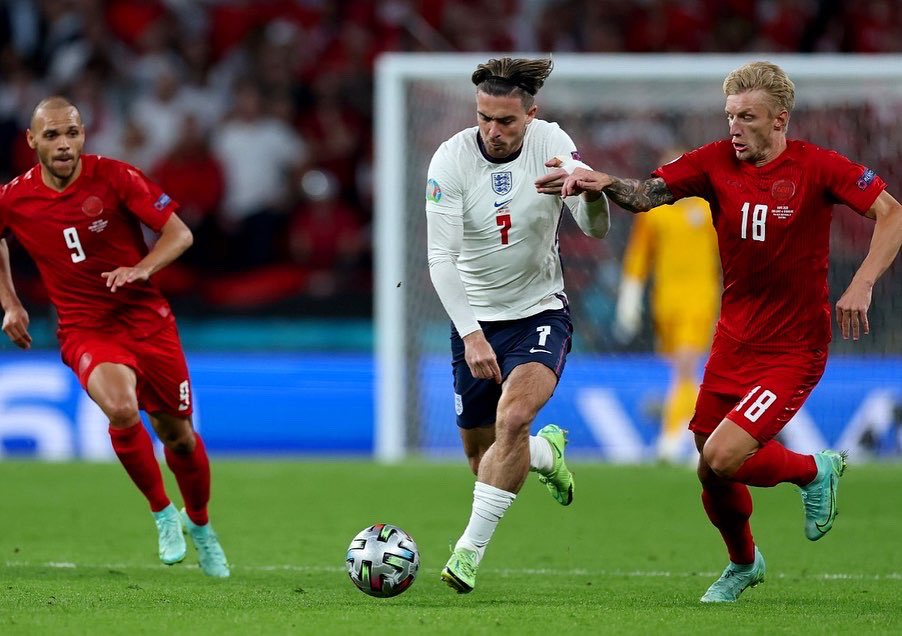 Jack Grealish – 7
Unfortunate to get subbed on and subbed off but Grealish once again made a positive impact from the bench! 9 times out of 10 he would have had another assist to his name had Kane not miskicked in the dying moments of the game.
Tested Schmeichel well from distance in extra time! (Ryan)
Phil Foden – 6
Will be remembered more for his passionate celebration with Kane than his performance on the night. (Ryan)
Jordan Henderson – 6
Replaced Rice and added energy and experience for the closing stages. (Ryan)
Kieran Trippier – 6
Introduced for a change of formation in the second half of extra time – used all of his experience well as England played keep ball to see out the game! (Ryan)
---
UP NEXT – ITALY (FINAL)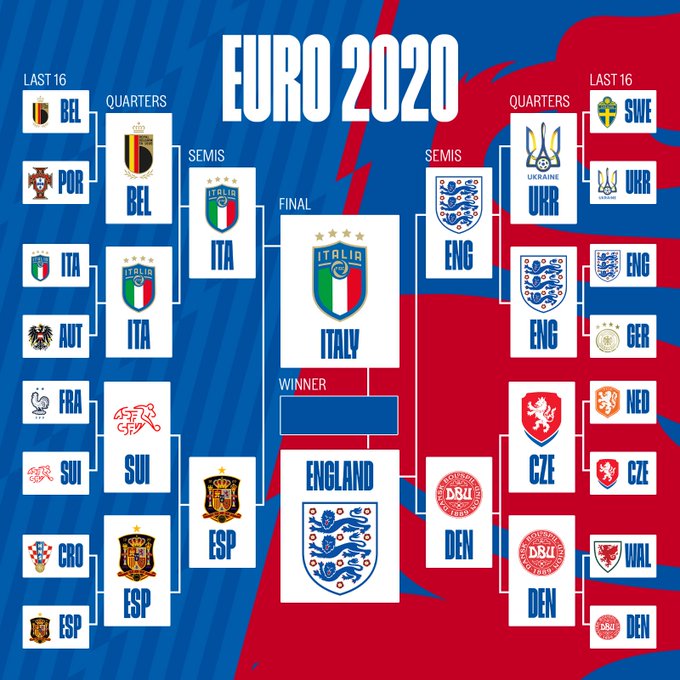 ---
SWEET CAROLINE!! SO GOOD, SO GOOD!!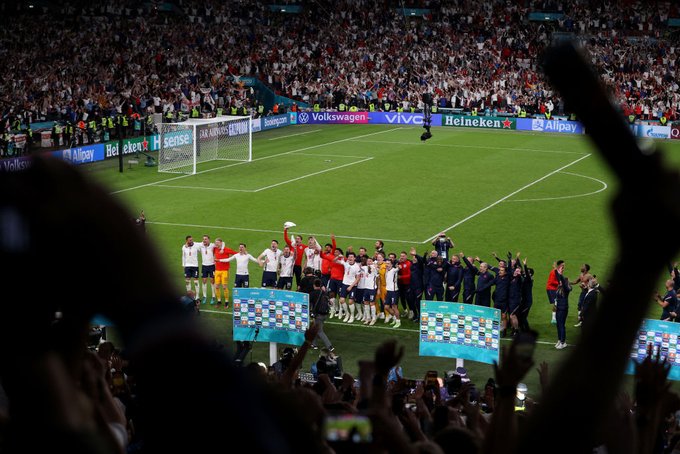 THE WINNING GOAL
PLAYER REACTION
GARETH SOUTHGATE PRESS CONFERENCE
---
UTV PODCAST | LATEST NEWS
Check out the latest news from the UTV Podcast camp.
Remember, this is a channel built by fans for the fans. It's a platform for anyone to come on and have their say – if it's joining us on a Fan Reaction show or getting involved in our written work like Fan Reports, Fan Stories, Player Focus and the popular Player Ratings or have your question answered on our Preview shows – it is open to all.
It's a super chilled platform, so drop us a message or use our contact page.
SPONSER UTVPODCAST
Interested in sponsoring UTV Podcast? Email us at upthevillapodcast@gmail.com
---
NEW | TikTok
HELLO TIKTOK!! Bit of fun! Drop us a follow…
---
SOCIAL MEDIA
Facebook and Twitter readers, click the respective icon below to follow our utvpodcast social media accounts.
Subscribe to utvpodcast.co.uk to receive instant notifications on all podcast and blog releases.
---
UTV PODCAST | YOUTUBE
Help us grow and subscribe for free to our YouTube channel.
UTVPODCAST | SPOTIFY
Subscribe for free on Spotify
---
UTV PODCAST | MERCH