Premier League football returns this weekend as Aston Villa make the trip to Stamford Bridge to take on in-form Chelsea.
After a shock opening day defeat, Aston Villa have recovered well in their back-to-back home games, a 2-0 win over Newcastle United was followed up with a good point against Brentford when you consider the personnel that was unavailable.
Chelsea, even at this early stage, has laid down a marker for their title ambitions this season. Thomas Tuchel's side securing two wins and a draw from their opening three outings.
Chelsea showcased to the rest of the league just how difficult they will be to break down this season with a hard-fought 1-1 draw away at Liverpool, this after playing half of the game with 10-men following Reece James' red card.
Before that result, Chelsea boasted a 100% league record with wins against London rivals Crystal Palace and Arsenal, as well as defeating Villarreal on penalties to lift the European Super Cup.
Ahead of the game, I was delighted to chat with Chidge who produces and presents the Chelsea FanCast. He is regularly asked to comment on Chelsea FC issues on and off the pitch for London Tonight; BBC Radio5Live; TalkSPORT; LBC; Love Sport Radio, Absolute Radio; CNN; NBC, TV2 and Sports Tonight Live and the written media such as the Telegraph, London Evening Standard, Mail and Mirror – so it's fantastic to welcome him on UTV Podcast.
UTV PODCAST X CHELSEA FANCAST
Tuchel has done an amazing job so far for Chelsea. What has he changed to turn Lampard's underperforming squad around in such a short timeframe?
It is becoming apparent that Tuchel is one of the top coaches in the game and what he did at Chelsea in such a short space of time was remarkable – I mean winning the European Cup in a matter of months?? The first thing he did was to sort out the defence, going to a back 3 of predominantly Rudiger, Silva/Christensen and Azpilicueta and getting the width through our wingbacks – Chilwell/Alonso on the left and James/Hudson-Odoi on the right. The back three becomes a back five out of possession which makes us a very tough nut to crack, hence the number of clean sheets, but don't underestimate the impact that Edouard Mendy has had – he's a fine keeper and underrated I think.
Tuchel as well as being a fine coach with obsessive attention to detail is also a very good man-manager and as a manager with much experience is pragmatic too, which I like. He looked at Rudiger and Alonso, decided he could use them, gave them a clean slate and said go out and perform. These two players had been frozen out by Lampard when a more experienced manager might have taken a more pragmatic view.
I think the third thing Tuchel has brought to the party is an ability to improve players. You kind of expect that with young players such as Mount and James, but I believe he has not only got the best out of the likes of Rudiger, Christensen and co, but he has improved them as players. Talking of which, Jorginho now looks a hell of a player having been a bit of a Marmite player with Chelsea fans. Tuchel deserves the credit for this too. He identified Jorginho's strengths and weakness and set up a structure in the 3:4:2:1 formation to accentuate his strengths and mitigate his weaknesses. Good intelligent, pragmatic management.
---
UTV PODCAST | CHELSEA PREVIEW
---
For me, Chelsea are one of the favourites to win the league this season, well, I certainly hope you finish above Man City for the obvious reason! I believe the re-signing of Lukaku could well be the difference, how does he compare to his previous stint at the club?
I can understand why so many people make Chelsea favourites to win the league this season, after all, we have just won the European Cup and have added what will hopefully be the last piece in the jigsaw puzzle by signing a world-class goal scorer in Lukaku. It's never as simple as that though and we have a lot of points to make up on last season to overhaul one of Utd, City or Liverpool. However, we scored something like 25 goals fewer than champions City last season and were second to them in goals conceded. If Lukaku can score 25 goals this season and make up that gap on his own, I reckon we'll be there or thereabouts. There's a long way to go yet though.
It is unfair to judge Lukaku on his 15 games for Chelsea in his first stint. He was young, very raw and somewhat overwhelmed by the depth of talent we had at the club. He's a confident player and he comes back to us having proved himself at every club he's been to and his International side Belgium. His goal ratio is around 1 in 2 which puts him in the top bracket of strikers and it's even better for Belgium so he's done it against top sides in top leagues and competitions so he is not the 'flat-track bully' I thought he was. He's also matured a lot as a player and a man so we are getting an experienced leader as well and he looks every inch a striker on top of his game and he knows it so will hopefully deal with the responsibility well. He's also a Chelsea fan (no, really, he is!) which I think helps in terms of his attachment to the club and there is no need for settling in as he knows the club well.
---
FORM GUIDE
---
Kai Havertz, wrote himself into Chelsea folklore with his winner in the Champions League Final, how excited are you to see him develop and push on this season?
He did indeed. Havertz had a tough start at Chelsea trying to settle in during a nationwide lockdown and then getting Covid which floored him for a couple of months, not to mention the upheaval and uncertainty that occurs when one manager gets fired and another one comes in. He's still young but he looks like a top top player in the making. He's arguably the most talented and skilful player in the squad. Two footed with a deft touch, he's got an eye for goal and he's a big lad too, so suited to the Premier League. Of all the players at the club, I'm most excited to see how far he can go and if he keeps on developing we have a major talent on our hands.
---
2021-09-11T17:24:00
days
hours minutes seconds
until
---
Onto the game, a very tough one for Villa!
Both teams have selection concerns following the international break with Villa losing Martinez and Buendia to 10 days of isolation following the unreal scenes in Brazil, plus with rumours circulating of knocks to Lukaku, Havertz and Kante, how do you see this one going?
It won't be an easy game for Chelsea, that's for sure – Villa are a decent side, in spite of losing Jack Grealish to City. Of course, games coming after an International break are always hard to predict and Chelsea will not be helped if Lukaku, Havertz and Kante are all out injured as they are very key players for us. But then Villa losing Martinez (a very good keeper) and Buendia won't help them either. Even last season, many pundits felt that Chelsea had the strongest squad other than City and I agree with them. It's even stronger now and a lot of the players have improved. The main worry as I said would be losing Lukaku and Havertz as nominally they are the two strikers, but we have such great backup all over the pitch now and we are covered in defence, in midfield now we have signed Saul from Atletico Madrid and even in attack there are plenty of players who can cover the striker position such as Werner, Pulisic and Ziyech and Tuchel is adaptable to come up with a selection and formation that can work. That said, I'd be happier to see Lukaku start!
What weaknesses could Aston Villa expose against Chelsea?
There are so few weaknesses to this Chelsea side and Tuchel is superb at mitigating them. You could argue that Villa could exploit Alonso and Azpilicueta's lack of pace, but Liverpool couldn't or isolate Jorginho by putting a man or two on him, but again this seems to be working less and less now. If I was Dean Smith I'd set out to frustrate Chelsea, either match them up in formation or defend with a low block and hit them on the break. Sometimes, Chelsea's concentration wanders as they tend to have a lot of possession so you'll need to capitalise on that and if you get a chance you have to bury it and hope that Chelsea waste a lot of theirs as they tend to do.
---
PREMIER LEAGUE HISTORY
HEAD-TO-HEAD
Chelsea – 26 Wins (15 Home)
Draw – 13 Draws
Aston Villa – 13 Wins (5 Away)
---
What's your thoughts on what Aston Villa have been building since our return to the Premier League, any players that have caught your eye?
I've been impressed with Villa and in particular, Dean Smith who I didn't know too much about or rate highly. But Villa are a big club so in a way, it's not a surprise that they didn't fall into the cycle of promotion/relegation that many have done before them. They are re-established as a Premier League club and they've bought wisely. I do wonder how they will cope without Grealish this season as he was their best player and talisman. Martinez is a good keeper and I rate Ollie Watkins and I've always rated Danny Ings too. It will be interesting to see how Leon Bailey does as he was highly rated when he broke onto the scene. John McGinn is a player I rate – horrible to play against but you'd want him in your team and of course, I've got to shout out ex-Chelsea player Bertrand Traore. Never got a fair crack at Chelsea like so many of our young players, so good to see him doing well elsewhere. I wouldn't be surprised if he scores against us on Saturday as so many ex-players do don't they!
And finally… what's your score prediction?
If Chelsea bring their defensive game from the last match at Anfield on Saturday then I find it hard to see Villa scoring, so I'll go for 2-0 Chelsea.
---
BLAST FROM THE PAST
Chelsea 4-4 Aston Villa
Stamford Bridge | Attendance 41,686 | Wednesday, 26 December 2007 | Matchday #21
Gareth Barry's late penalty earned Villa a draw in an incredible game.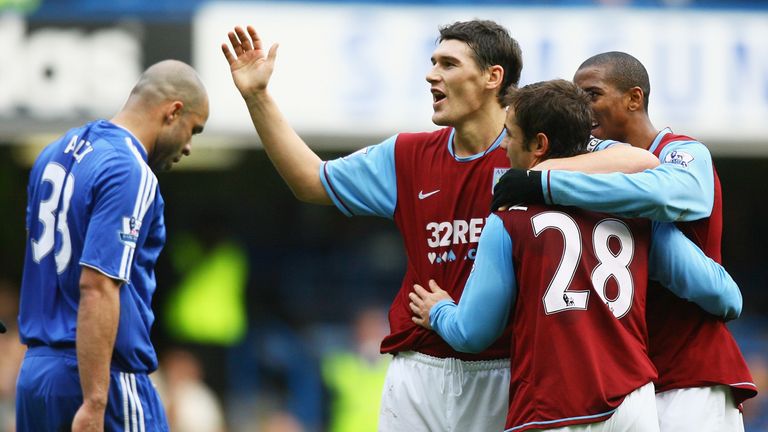 Shaun Maloney volleyed Villa ahead and Petr Cech's gaffe gifted him a second but Zat Knight saw red and Andriy Shevchenko netted from the spot.
Shevchenko spanked Chelsea level and Alex crashed in a third but Martin Laursen equalised before Ricardo Carvalho saw red for a nasty lunge.
Michael Ballack's free-kick seemed to have won it but Barry made it 4-4 when Ashley Cole was sent off for handball. (BBC Sport)
GOALS
Scorer(s) Shaun Maloney 14' 44' Martin Laursen 72' Gareth Barry 90'+2 pen
Starting Line Up: Scott Carson, Wilfred Bouma, Martin Laursen, Olof Mellberg, Zat Knight, Gareth Barry, Nigel Reo-Coker, Shaun Maloney, Ashley Young, Gabby Agbonlahor, John Carew
​Substitutes:
Curtis Davies for Shaun Maloney 46'
Luke Moore for John Carew 78'
Marlon Harewood for Wilfred Bouma 90'
---
LAST TIME AT STAMFORD BRIDGE
Chelsea 1-1 Aston Villa (28th December 2020)
Anwar El Ghazi scored his fifth goal in as many games as Aston Villa came from behind to earn a point against Chelsea in the Premier League at Stamford Bridge.
Villa were trailing to an Olivier Giroud header when El Ghazi scored a second-half equaliser that saw the in-form visitors stretch their unbeaten run to five games.
GOALS
Chelsea: Giroud 34″
Aston Villa: El Ghazi 50″
LINE-UP
Chelsea: Mendy; Azpilicueta (c), Christensen, Rudiger, Chilwell; Kante, Jorginho (Havertz 71″), Mount; Hudson-Odoi, Giroud (Werner 71″), Pulisic
Unused subs: Kepa, Thiago Silva, Tomori, Emerson, Kovacic, Gilmour, Abraham
Aston Villa: Martinez, Cash, Hause, Konsa, Targett, Luiz, McGinn, Traore (Davis 85′), Grealish, El Ghazi (Ramsey 81′), Watkins.
Unused subs: Heaton, Guilbert, Taylor, Engels, Elmohamady, Nakamba, Hourihane.
---
CHELSEA FANCAST
Villa fans, you can catch Justin on the 'Chelsea FanCast' this Friday from 7pm, he'll be featuring on 'The Opposition View'
Details here: Chelsea FanCast
---
WHO'S YOUR MONEY ON?
---
UTV PODCAST | LATEST NEWS
Check out the latest news from the UTV Podcast camp.
Remember, this is a channel built by fans for the fans. It's a platform for anyone to come on and have their say – if it's joining us on a Fan Reaction show or getting involved in our written work like Fan Reports, Fan Stories, Player Focus and the popular Player Ratings or have your question answered on our Preview shows – it is open to all.
It's a super chilled platform, so drop us a message or use our contact page.
SPONSER UTVPODCAST
Interested in sponsoring UTV Podcast? Email us at upthevillapodcast@gmail.com
---
NEW | TikTok
HELLO TIKTOK!! Bit of fun! Drop us a follow…
---
SOCIAL MEDIA
Facebook and Twitter readers, click the respective icon below to follow our utvpodcast social media accounts.
Subscribe to utvpodcast.co.uk to receive instant notifications on all podcast and blog releases.
---
UTV PODCAST | YOUTUBE
Help us grow and subscribe for free to our YouTube channel.
UTVPODCAST | SPOTIFY
Subscribe for free on Spotify
---
UTV PODCAST | MERCH