As the dust settles on what has been a monumental week at Aston Villa, with former head coach Dean Smith leaving the club after a memorable three years, let's take an in-depth look at Aston Villa Football Club's new head coach – Steven Gerrard!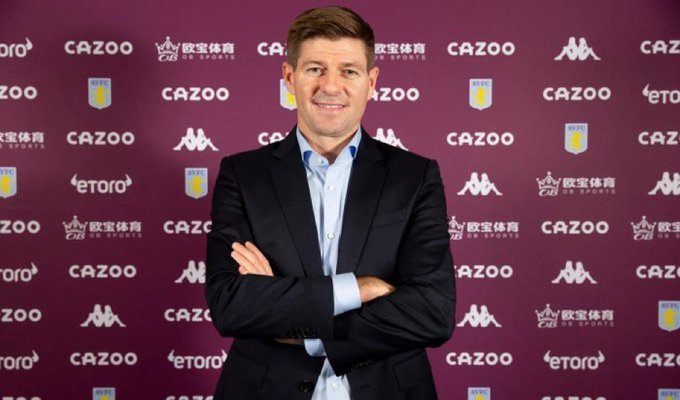 Christian Purslow, Johan Lange and joint owners Nassef Sawiris and Wes Edens had a big decision to make during the international break as to which man should be at the forefront of the club in order to project them back up the table. Naturally, many names in the footballing industry had cropped up and had been linked to the job since the departure of Smith, including both free agents and already contracted managers. The name that consistently remained the 'favourite' however, was Steven Gerrard.
Let's take a look at his managerial career so far, including his successes, favoured play-style and more, as we try and familiarise ourselves with the new boss, as he signs on a three and a half year deal.
Time at Rangers
Having joined June 2018, Gerrard made a decent start to his managerial career, guiding his side to a second placed finish after going twelve games unbeaten to begin the campaign, but crashed out in the Europa League group stages behind eventual quarter-finalists Villarreal and Austrian side SK Rapid Wien. That season also saw Rangers knocked out in the quarters and semis of both the Scottish Cup and League Cup to Aberdeen, but noticeably recorded a league win over Glasgow rivals Celtic for the first time since 2012. A good start.
His impressive opening season helped spark interest from Premier League outfit Newcastle United, after former boss Rafa Benitez decided to leave at the end of his contract. Gerrard turned down the opportunity to work back in England due to a settled feeling at his current club and the want to continue progressing with his side.
The 19/20 campaign saw improvement in the Europa League, getting through the group stages in second place, with Portuguese side FC Porto topping the table, and then through the round of 32, outwitting SC Braga over both legs. Unfortunately this was as far as they would go in the competition as they were outperformed by a red-hot Bayer Leverkusen side in the round of 16. Elsewhere, it was reasonably underwhelming, losing to Celtic in the final of the League Cup by a goal to nil, and disappointingly crashing out to Heart of Midlothian (Hearts) in the Scottish Cup Quarter-Finals. Gerrard and his Rangers team would finish second in the league once again behind bitter rivals Celtic.
The next year was one to remember for the Rangers fans however as Gerrard led their side to a first Scottish Premiership title in ten years, getting the better of Old Firm nemesis Celtic on both occasions and to top it off – doing the whole thing unbeaten! A remarkable achievement for anyone, but is particularly commendable given it was only Steven Gerrard's third season in management. To add, the Scottish side topped their Europa League group, beating SL Benfica to the top spot by two points. They would unfortunately exit the competition after being defeated by Czech side Slavia Prague in the round of 16 stage. In the domestic cups, there was a feeling of dismay having failed to go beyond the Quarter-Final stage in either competition, but it would not put a dampener on what had been a hugely successful season, with an emphasis put on that long awaited title win which was celebrated by the thousands by the Rangers faithful.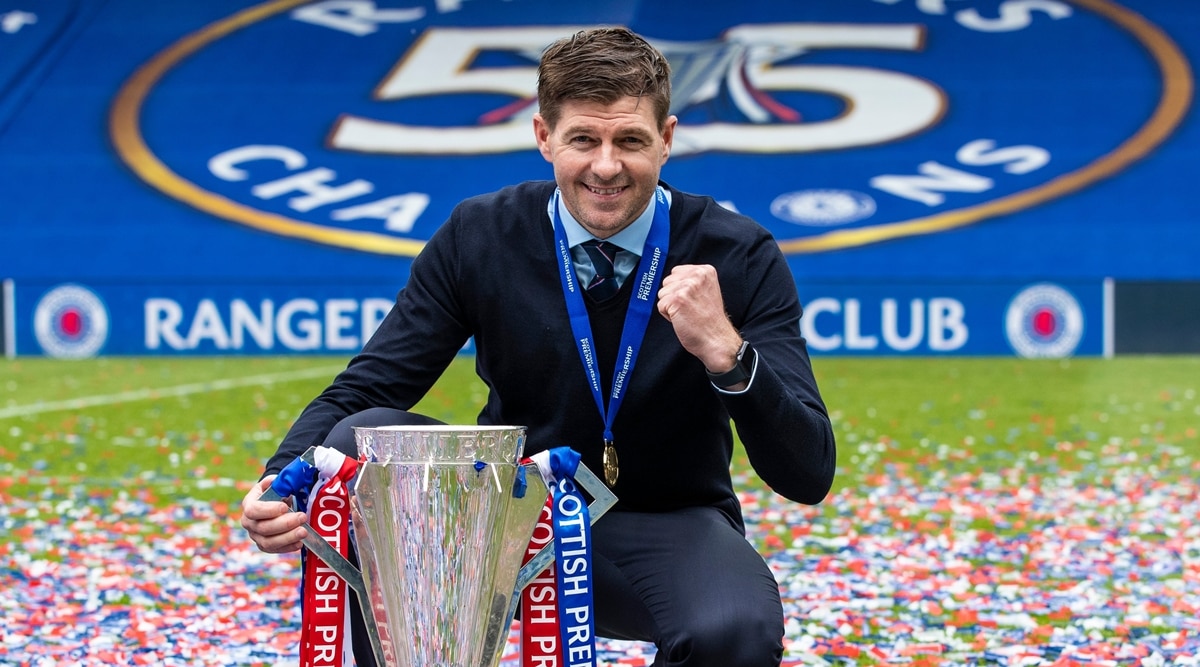 That brings us to the present day, where Gerrard had made another fantastic start to the season with his team who currently sit top of the division, four points ahead of their Old Firm neighbours.
It is safe to say, during his time there, Gerrard has stabilised Rangers as a top club, who can compete well in Europe and dominate in the Scottish Premiership. Considering he joined at a time when the club were in turmoil – unable to get through the qualification stages of the Europa League, defeated easily in both domestic cups and finishing 3rd in the league, you can see the 41 year-old has done a remarkable job in his short time as a manager.
Relationship with Purslow
It is evident that Steven Gerrard had made year by year progress during his time in Scotland. This term 'progress' has been used profusely over the last few seasons at Aston Villa identifying the primary objective set by the owners and hierarchy at the club, so it is clear to see why Gerrard was favoured for the role.
Chief executive Christian Purslow has worked with Gerrard before, during his time as the managing director at Liverpool, so there is a ready-made connection and level of respect between the two. Purslow is publicly renowned for his high praise of Gerrard both during their time together at Merseyside, and most recently before he was appointed manager of Rangers.
"Ten years ago Rangers were in a major European final and the trials and tribulations of that club since then are well documented. Frankly, disappearing from the top table of European football where this once great club proudly sat, to associate with a person of the reputation of Steven Gerrard puts them back on the map."

Christian Purslow on the situation at Rangers prior to the appointment of Steven Gerrard as Head Coach. (Quote from: https://www.thescottishsun.co.uk/sport/football/7974225/rangers-steven-gerrard-aston-villa-christian-purslow-target/ )
Purslow clearly appreciates the former England international, and it seems as if the feeling is reciprocated by Gerrard, with the former midfielder speaking just as highly of the chief executive and the other board members (Ian Ayre and Martin Broughton) during the takeover of Liverpool Football Club, back in 2010.
"Credit needs to go to Christian, Ian and the chairman who have worked so hard on this."

Steven Gerrard recognising the fine work done by the Liverpool hierarchy during the Fenway Sports Group takeover in 2010. (Quote from: https://www.thescottishsun.co.uk/sport/football/7974225/rangers-steven-gerrard-aston-villa-christian-purslow-target/ )
This preexisting bond between the two will encourage Villa fans, knowing that they get along and work well together. Purslow would have seemingly been the one to plead Gerrard's case to the owners, pinpointing what he can bring to the club that will help achieve the aims set by the ambitious investors.
Play-style
During his time at Rangers, Gerrard adopted a system that he had stuck with for the majority of the three years, a system which brought about plenty of success and was a key part of bringing glory back to the Scottish giants.
The system was structured in a 4-2-3-1/4-3-3 formation, that emphasises the use of progressive full backs, possession- heavy play and a well-designed press.
The use of progressive full-backs is something that has become widely popular in the game over several years now, and it goes without saying that every good footballing side has a pair of capable full-backs. The system Gerrard played is no different and is the reason why his wide defenders, in James Tavernier and Borna Barisic, have played an integral part in the success of the team. Gerrard likes his full-backs to drop deep to receive the ball. This typically draws opposition forwards in, leaving space for midfield teammates to progress with the ball, but if the midfield options are covered, the full-backs themselves can initiate the build-up. This would transition well into the Aston Villa set-up given the good form of Matty Cash so far this season, and the balance he brings, both off the ball, when defending, and on the ball, starting attacks.
Gerrard's midfield is one that typically consists of a double pivot, with the extra central-based player, typically Joe Aribo in the side, expanding out to the flanks, playing as more of a wide midfielder. The inside forwards, mainly Ryan Kent, then come inside to play as the 10. Thus transferring from a 4-3-3 out of possession into a 4-2-3-1 in possession. Again, this could integrate well with the squad at Villa, given the versatility of the midfield options, namely Emi Buendia and John McGinn.
The attack has been recognised as being automated, in that it operates with plenty of flexibility, but with the positional awareness of teammates and individual roles to remain structured as a forward-line and to never leave gaps for the opposition to pass through. This means the first line of defence, being the attack, is rigid and hard to break through, but also a threat when possession is turned over given the spatial occupation and awareness of the three. This use of pressing forwards would one again fit Villa well, particularly Ollie Watkins and Danny Ings, who are renowned for their excellent pressing abilities and defensive know-how, but also their attacking finesse.
One thing that stands out in this Gerrard system is the use of an overload, both in attack and defence. His Rangers side enjoys outnumbering their opponents in zones all over the pitch, and using it to edge their opponents, both on the ball and off it. This can be very risky of course, leaving some areas of the field unguarded and susceptible for danger, but more often than not, it works well and can be very effective if carried out properly.
When on the ball, an overload can help the side wiggle out of tight situations, providing more options and methods of support for the man in control. If possession is lost however, there is an improved chance the ball is instantly won back due to the number of players still in that same zone and area of the pitch. This overload style of play could be advantageous in the Premier League due to the pace that the game is usually played at, leaving no time for the opposition to think when on the ball, and being numerically outnumbered when not in possession. This method of play promotes possession-heavy football with the urgency to win the ball back quickly and efficiently when lost.
To finish, the system allows for midfield protection, with the intention of pressing the opposition back line and hounding the midfield pivot(s); players who typically enforce the play and begin the attacks. Gerrard sends his forward three out to follow and move where the balls goes as a unit, positioned with optimum efficiency to deny direct passes forward into the midfield areas. We have seen Villa's midfield bypassed far too easily in recent times, and protection of that area is necessary, so once again this piece of the system would do his new side plenty of favours if integrated accordingly.
This information was found on the 'Breaking the Lines' website, so credit to them for the in-depth analysis of the system – https://breakingthelines.com/tactical-analysis/tactical-analysis-steven-gerrards-rangers/ .
What he brings
Steven Gerrard is a high profile man and a household name in England. His reputation that he brings is nothing short of major. The man with 114 caps for his nation also brings with him a vast amount of Premier League experience and know-how having spent seventeen illustrious years at Liverpool, playing over 500 games for the club. He is certainly no stranger to the division, and he, more than anyone, will know what it takes in order to get results.
Playing in the league and managing is completely different however. The difference between being instructed to being the one instructing is immense, but Gerrard will have gained plenty of experience during his three and a bit years at Rangers, signified through his successes, to manage and direct a squad of players effectively. He was the captain at his boyhood club Liverpool too, and led them to numerous trophies both domestically and around Europe, meaning he possesses a number of leadership qualities that will only do him good as a manager.
Gerrard also brings with him some members of his backroom staff, with standout pairing of assistant manager Alex McAllister and first-team coach Michael Beale, as well as set-piece specialist Tom Culshaw and head of performance Jordan Milsom. McAllister of course returns to Villa Park where he spent nine months at the club between September 2010 and June 2011 as deputy to Gerrard Houllier and featured briefly as the caretaker boss when Houllier sadly fell ill. This set of staff have been keyed as the 'secret ingredient' behind Gerrard's successes at Rangers, and it is believed that Gerrard carefully handpicked each member of his coaching team before beginning his managerial life.
Having managed the Liverpool under 18 side for a couple of years, impressing Jurgen Klopp whilst doing so, Gerrard carries a philosophy that promotes the use of youth talent. This is extremely encouraging in regards to Villa, given the incredible academy and youth set-up that the club possesses. Players such as Cameron Archer, Carney Chukwuemeka and Jaden Philogene-Bidace could all see far more first-team action under the new boss. An exciting prospect.
The appointment of Steven Gerrard can be see as a gamble due to a lack of experience, but there are certainly good signs that it could well pay off given the triumphs he has already tallied up in his time in the coaching role. It is without a doubt a huge statement of intent poaching a contracted manager from a team who currently sit top of their respective league and play European football. This appointment alone signifies just how ambitious and hungry our owners and board are to get the right man in charge who can deliver the high expectations we have as a club.
Reports say that Gerrard will have a budget of up to £60 million to spend on transfers during the January transfer window. If true, this will give the new boss a chance to bring in the players he needs to fit his system and play the football he wants to play. This backs up the trust that the board have in Gerrard to improve the squad in order to progress as a football club, and it will be interesting to see who he chooses to bring to B6.
A new era at Aston Villa has begun, with an exciting new manager who possesses plenty of passion and a keen hunger to win and succeed. Gerrard's first game will be at home next week, as we host Brighton and Hove Albion on Saturday 20th November. He will be welcomed by a packed out Villa Park singing his name; let's hope this will drive the new boss and the team to get all three points and make it a dream start to life as Aston Villa head coach.
Up the Villa!
---
UTV PODCAST | LATEST NEWS
Check out the latest news from the UTV Podcast camp.
Remember, this is a channel built by fans for the fans. It's a platform for anyone to come on and have their say – if it's joining us on a Fan Reaction show or getting involved in our written work like Fan Reports, Fan Stories, Player Focus and the popular Player Ratings or have your question answered on our Preview shows – it is open to all.
It's a super chilled platform, so drop us a message or use our contact page.
---
SPONSER UTVPODCAST
Interested in sponsoring UTV Podcast? Email us at upthevillapodcast@gmail.com
---
#Hergame Too is a campaign set up to raise awareness for the sexism that is prevalent in football, as well as supporting, empowering, and creating opportunities for females involved in the game. The #HerGameToo team are made up of twelve football fans that represent an array of teams across the country, including some that work in the industry who have experienced some sexism in their everyday work. They actively encourage people to speak out about their experiences, whether it be to #HerGameToo, friends or family, or the football clubs involved. We must acknowledge that football has come a long way from the issues that existed historically, however there is still a long way to go.
#HerGameToo are doing great work on understanding and removing misogyny in the men's game, and are continuing to develop their campaign to make it the most inclusive and accessible it can be. Elevating hard-hitting stories, data and new voices is helping to spread their message loud and clear.
If you would like to show your support for #HerGameToo, you can help by calling out any misogynistic comments you hear or see and give them a follow on any of their socials.
W: http://hergametoo.co.uk T: @HerGameToo I: @HerGameToo F: @HerGameToo
---
SOCIAL MEDIA
Facebook and Twitter readers, click the respective icon below to follow our utvpodcast social media accounts.
Subscribe to utvpodcast.co.uk to receive instant notifications on all podcast and blog releases.
---
UTV PODCAST | YOUTUBE
Help us grow and subscribe for free to our YouTube channel.
UTVPODCAST | SPOTIFY
Subscribe for free on Spotify
---
UTV PODCAST | MERCH
---
NEW | TikTok
HELLO TIKTOK!! Bit of fun! Drop us a follow…