Sunday 14th November marked when Aston Villa Women would finally take the crown in the WSL Second City Derby.
Birmingham City has been playing a level above Aston Villa for as long as fans can remember, even reaching a Champions League semi-final in 2014. Last season saw Villa's first season in the WSL, and both clubs achieved survival on the final day, Villa finishing one spot ahead of the Blues. Things are finally levelling in the second city, and Saturday was the perfect opportunity to swing the power to the North of Birmingham.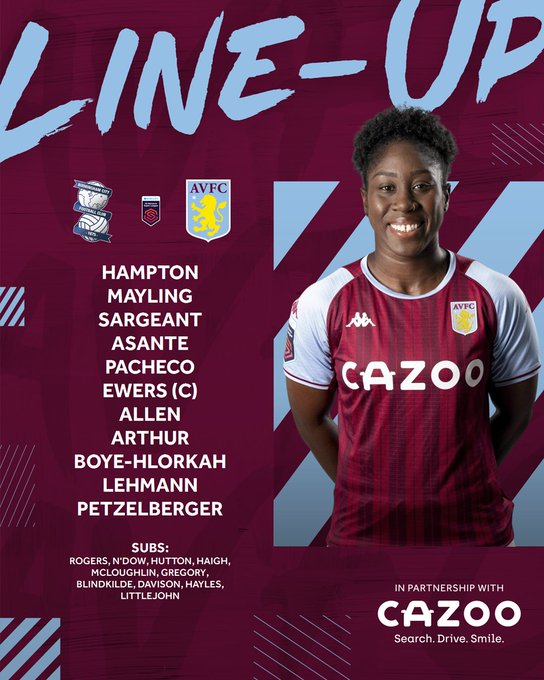 Carla Ward returned to face her old club, bringing along several of their former players too. Club captain Marisa Ewers made her second start following various injuries, accompanying Allen and Arthur in midfield. Ward set up with a back four of Pacheco, Asante, Sargeant and Mayling; Petzelberger, Boye-Hlorkah and Lehmann led the front line.
The Villans started strong with relentless attacks to please the away fans behind the goal. Possession and control were heavily imbalanced, with Birmingham City struggling to get out of their half. Both Villa fullbacks were allowed to push forward and provide chances through crosses, but they could not be met with anything of worth.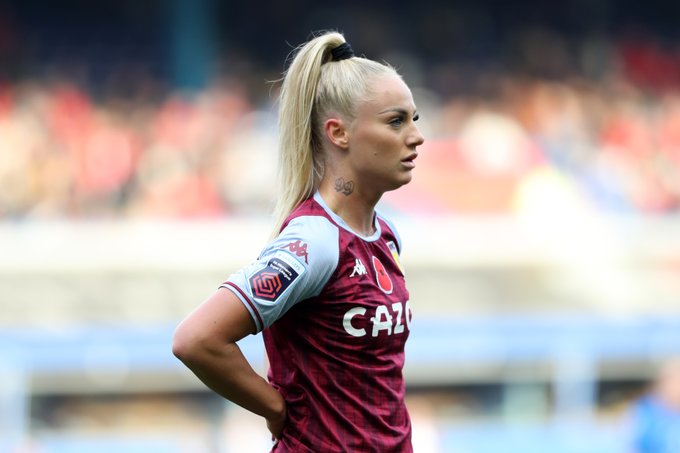 Alisha Lehmann had several good opportunities; her best sadly pulled wide of the far post. Marisa Ewers also took a shot, but the spin on the ball took it wildly off target.
---
---
Villa's biggest threat came from set-pieces, of which there were many due to Birmingham's growing frustrations. Fullbacks Maz Pacheco and Sarah Mayling stood over every free-kick, and the output was consistently threatening, but it was a corner that would break the deadlock. Mayling's delivery was met by Anita Asante, who rose highest in the crowded box: a classic centre back goal.
The lead was almost doubled in the same fashion; Remi Allen's header was kept out by Hourihan's save. Villa continued to dominate the game up until the half-time whistle and was unfortunate not to capitalise further.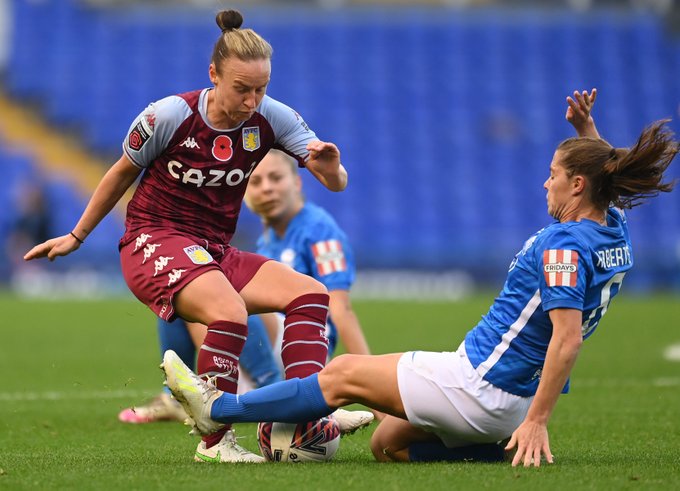 After the break, Birmingham City came out with a new determination. Jade Pinnock and Lucy Quinn looked the most likely to equalise, and Villa was forced to become more defensive. Those earlier missed chances had the potential to haunt the visitors, who should've buried the game before half-time.
Freya Gregory entered the scene in place of Chloe Arthur – a sight to please fans that remember her debut goal in a 1-1 draw against our rivals last season. Hayles and Littlejohn also replaced Ewers and Lehmann, as Carla Ward tried to regain the momentum from earlier in the game.
Blues' late attacks were not enough to unsettle Villa's defence, bar one chance that Hannah Hampton just about kept hold of. Otherwise, Villa managed to see a relatively comfortable one-goal lead through an additional five minutes of injury time.
The result pushes Villa up to 6th place in the Women's Super League, thanks to a late Reading equaliser against West Ham. Villa looks now to Wednesday's Conti Cup game against Sheffield United and on towards the next league game against a somewhat vulnerable Manchester City.
Georgia. UTV.
---
HIGHLIGHTS
THE BOSS
PLAYER REACTION
---
UTV PODCAST | LATEST NEWS
Check out the latest news from the UTV Podcast camp.
Remember, this is a channel built by fans for the fans. It's a platform for anyone to come on and have their say – if it's joining us on a Fan Reaction show or getting involved in our written work like Fan Reports, Fan Stories, Player Focus and the popular Player Ratings or have your question answered on our Preview shows – it is open to all.
It's a super chilled platform, so drop us a message or use our contact page.
---
SPONSER UTVPODCAST
Interested in sponsoring UTV Podcast? Email us at upthevillapodcast@gmail.com
---
#Hergame Too is a campaign set up to raise awareness for the sexism that is prevalent in football, as well as supporting, empowering, and creating opportunities for females involved in the game. The #HerGameToo team are made up of twelve football fans that represent an array of teams across the country, including some that work in the industry who have experienced some sexism in their everyday work. They actively encourage people to speak out about their experiences, whether it be to #HerGameToo, friends or family, or the football clubs involved. We must acknowledge that football has come a long way from the issues that existed historically, however there is still a long way to go.
#HerGameToo are doing great work on understanding and removing misogyny in the men's game, and are continuing to develop their campaign to make it the most inclusive and accessible it can be. Elevating hard-hitting stories, data and new voices is helping to spread their message loud and clear.
If you would like to show your support for #HerGameToo, you can help by calling out any misogynistic comments you hear or see and give them a follow on any of their socials.
W: http://hergametoo.co.uk T: @HerGameToo I: @HerGameToo F: @HerGameToo
---
SOCIAL MEDIA
Facebook and Twitter readers, click the respective icon below to follow our utvpodcast social media accounts.
Subscribe to utvpodcast.co.uk to receive instant notifications on all podcast and blog releases.
---
UTV PODCAST | YOUTUBE
Help us grow and subscribe for free to our YouTube channel.
UTVPODCAST | SPOTIFY
Subscribe for free on Spotify
---
UTV PODCAST | MERCH
---
NEW | TikTok
HELLO TIKTOK!! Bit of fun! Drop us a follow…