Aston Villa lost 5-0 away at Manchester City; tough one to take after a promising first-half display.
Caroline Weir, Georgia Stanway, Hayley Raso (2) and Lauren Hemp all scored second half goals, after Villa frustrated City in the first-half, coming in 0-0 at half-time.
Let's see how Adam Reapa who was in the stands rated the performance of our women in Claret and Blue.
STARTING LINE-UP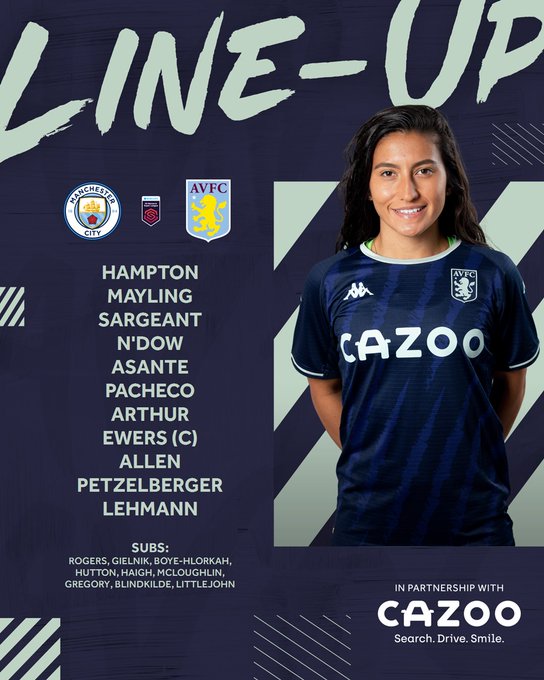 ---
Hannah Hampton – 8.5
Hampton once again, as she always does, impressed, despite conceding 5.
She kept us in the game with some fantastic saves; her own biggest critic, I know she will be unhappy with how one of the goals was conceded! Still, a huge talent.
Sarah Mayling – 6.5
Mayling had a tough task in the game trying to mark Lauren Hemp; who is one of the best in the game.
Mayling always tried to get back and stop Lauren from creating, but as noted, a very tough task for any player.
Anita Asante – 6.5
Anita Asante always gives her all and reads the game very well, but up against Manchester City's superstars, it was always going to be a tough task at the back for our team.
Forever in thick of the action.
---
---
Meaghan Sargeant – 7
Sargeant played a big part in the defensive display in the first half that saw us go in level at halftime.
Elisha N'Dow – 7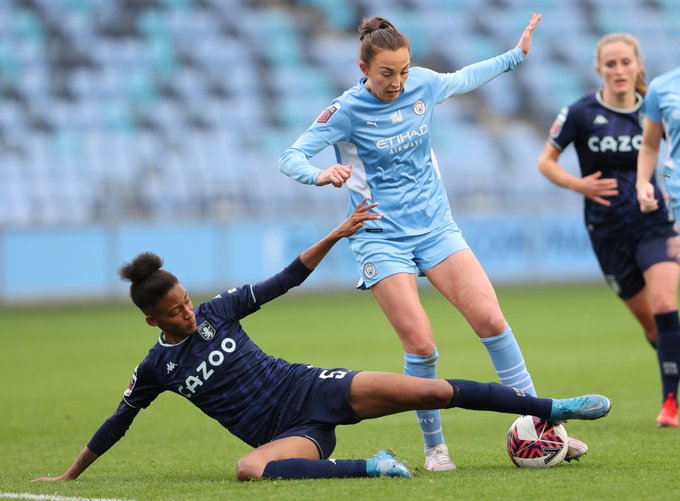 N'Dow was great in the first half at tracking back and making sure Manchester City had to work really hard to get in and beyond our back-line. Continued to battle hard in the second half.
Maz Pacheco – 7
Maz always looked to drive Aston Villa forward and relieve the pressure on the backline.
Worked well with substitute Chantelle Boye-Hlorkah in the second-half to add some width on the pitch.
Marisa Ewers – 7.5
It's so good to see Marisa Ewers back where she should be, on the pitch, giving it her all as our leader and Captain.
She always leads from the front and helped break up play on many occasions.
Chloe Arthur – 7
Arthur always does the hard work in the middle of the pitch that doesn't always get the credit she deserves. She worked effortlessly in the middle before being substituted at half-time to change our tactical play.
Ramona Petzelberger – 8
Ramona always adds pure skill and class on the pitch. We are a different team when she plays, her work ethic is second to none and always put Manchester City under pressure on the ball.
---
---
Remi Allen – 7
Remi Allen is always there when you need her to be. A class act on and off the pitch, epitomised when she took one for the team – to the head; but she's a tough cookie, bounced up and carried on!
Alisha Lehmann – 6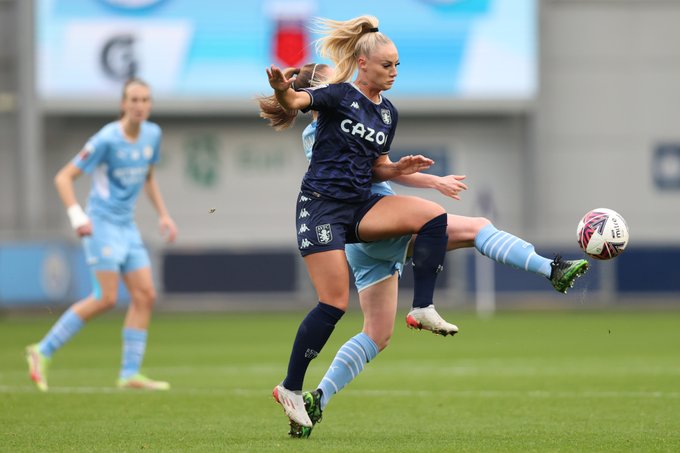 Lehmann looked for the fouls a lot but couldn't hold the ball up for us to build and create pressure on the Manchester City defence.
Looked much better when switched to her more natural position.
---
SUBSTITUTIONS
Chantelle Boye-Hlorkah (On For Chloe Arthur 45) – 7
Boye-Hlorkah came onto the pitch and added width to the game with fresh legs. She nearly provided an assist for Emily Gielnik with a fantastic ball across the box.
Olivia McLoughlin (On For Marisa Ewers 69) – 7.5
McLoughlin will always be the diamond in the rough for us, at only 17 years-old she fears nothing, and no one, and went up against a real seasoned pro like Vicky Losada and didn't look out of place at all.
Emily Gielnik (On For Alisha Lehmann 69) – 7
Emily Gielnik is back from injury and it's great to see her back on the pitch.
She nearly returned with a goal as she agonisingly came close to getting her boot onto a fantastic ball from Boye-Hlorkah!
---
UTV PODCAST | LATEST NEWS
Check out the latest news from the UTV Podcast camp.
Remember, this is a channel built by fans for the fans. It's a platform for anyone to come on and have their say – if it's joining us on a Fan Reaction show or getting involved in our written work like Fan Reports, Fan Stories, Player Focus and the popular Player Ratings or have your question answered on our Preview shows – it is open to all.
It's a super chilled platform, so drop us a message or use our contact page.
---
SPONSER UTVPODCAST
Interested in sponsoring UTV Podcast? Email us at upthevillapodcast@gmail.com
---
#Hergame Too is a campaign set up to raise awareness for the sexism that is prevalent in football, as well as supporting, empowering, and creating opportunities for females involved in the game. The #HerGameToo team are made up of twelve football fans that represent an array of teams across the country, including some that work in the industry who have experienced some sexism in their everyday work. They actively encourage people to speak out about their experiences, whether it be to #HerGameToo, friends or family, or the football clubs involved. We must acknowledge that football has come a long way from the issues that existed historically, however there is still a long way to go.
#HerGameToo are doing great work on understanding and removing misogyny in the men's game, and are continuing to develop their campaign to make it the most inclusive and accessible it can be. Elevating hard-hitting stories, data and new voices is helping to spread their message loud and clear.
If you would like to show your support for #HerGameToo, you can help by calling out any misogynistic comments you hear or see and give them a follow on any of their socials.
W: http://hergametoo.co.uk T: @HerGameToo I: @HerGameToo F: @HerGameToo
---
SOCIAL MEDIA
Facebook and Twitter readers, click the respective icon below to follow our utvpodcast social media accounts.
Subscribe to utvpodcast.co.uk to receive instant notifications on all podcast and blog releases.
---
UTV PODCAST | YOUTUBE
Help us grow and subscribe for free to our YouTube channel.
UTVPODCAST | SPOTIFY
Subscribe for free on Spotify
---
UTV PODCAST | MERCH
---
NEW | TikTok
HELLO TIKTOK!! Bit of fun! Drop us a follow…